Lolo Jones an Olympian and a Lady In Waiting.
(ThyBlackMan.com) Lolo Jones is from Des Moines,Iowaand is currently competing in the 2012 Summer Olympics Games, which are being held inLondon. She attended LSU where she perfected her gift in track and field.
Lolo Jones is one of the most popular athletes that will be participating in this year's games. She has appeared on The Tonight Show with Jay Leno and she is gracing the cover of Time Magazine with other Olympians. She has seven sponsors thus far and she has been featured in stories on HBO, ESPN, NBC's Nightly News and Rolling Stone magazine.
Lolo Jones is an athlete that many people are keeping their eyes on. Jones' spectators and fans are looking forward to her bringing home the gold. But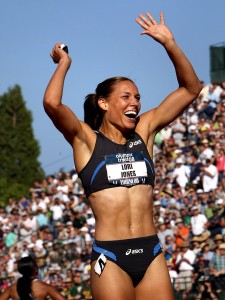 Lolo Jones has also caught the attention of many people for other reasons also.
Miss. Lolo Jones is in the market for love and she is letting the world know. She has revealed to E! that after the Olympics Games she will be looking for a date. "Whatever actor is watching this—if you're single and you are hot, I am single as well. Hit me up after the Olympics," Jones told E! News.
But here's the kicker. Lolo Jones is a virgin. She is a virgin and has no qualms in sharing her choice with the world. Jones says that she grows tired of being asked why she is single. As told to Access "That's one of the main reasons, because literally there are so many people who aren't willing to wait for their future spouse. They want to have sex now, they want to hook up," Lolo – who has openly spoken about being a virgin — said. "That's their life. My life is something else."
Jones is not only transparent about her sex life or lack thereof. She is also very open regarding her past. She has shared that things have not always been great. Jones tells her life of being raised by a single mother.
She talks about living at the Salvation Army. She speaks of her shame when interacting with her peers, waking up early in order to avoid friends at day camp learning she slept in the same building's basement. She also talks about stealing TV dinners in order to feed her family at a young age.
Finish story over at ThePhoenixUnleashed;
http://thephoenixunleashed.com/lolo-jones-an-olympian-and-a-lady-in-waiting-choosing-to-remain-a-virgin-until-marriage/