The Sports Section; When Simple Was More Than Sufficient.
(ThyBlackMan.com) I grew up in the Park Slope section of Brooklyn, New York during the early 1980's to mid-'90's  and have many great memories of a childhood mostly spent playing, eating and breathing sports. When I wasn't at P.S. 282 park playing everything from the prerequisite basketball to baseball to tackle football (whenever we had at least an inch of snow fall) I was reading about sports in as many as four daily newspaper sports sections. The New York Daily News, The New York Times, The New York Post and Long Island's New York Newsday were delivered to a number of local newsstands, bodegas and supermarkets on a daily basis.
I could buy all four for as much as it cost to buy a  bad candy bar today. The broadsheets were chock full of columns, stats, standings, game stories and trade rumors that I would fold up into the back pocket of my khakis on y way to school at Bishop Loughlin in the Fort Greene section of Brooklyn. 
My neighborhood didn't get it's first cable hook up until the early '90's so you either got your news from the six o'clock and eleven o'clock evening newscast or from the guy who kept yelling the latest Knicks score out of his fourth story window (What's up Curtis!) The newspaper sports sections were all I had and that was more than enough for a kid that spent whatever time he wasn't wearing a shirt with a number on it reading about his heroes that wore bigger numbers on the biggest and brightest of sports stages. Besides, I hated being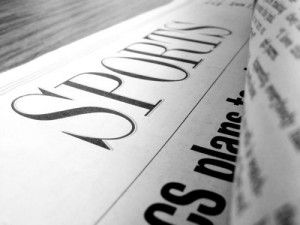 cooped up in the house and wasn't about to spend my time outside huddled around a radio listening to sports.
Anyway that wouldn't be possible with hip-hop dominating the airwaves from Brooklyn to the south bronx, south, south Bronx. 
There were newsstands all over my neighborhood with all of the papers readily available and supermarkets on every other corner that  had them if the papers were sold out to all of the 9 to 5'ers on their to the Bergen Street train station and their jobs all the city's five boroughs. That accessibility made it easy for me before the age of smart phones, Twitter feeds and Facebook pages to keep an eye on the St. John's Redmen (back when actual New York players played for New York's premiere basketball program) or the Jets, Giants, Knicks, Nets, Rangers, Islanders and Devils. 
All the news that was fit to print was fit to print in those newspapers. I would be able to fold my entire entertainment world into my back pocket on my way to school or downtown Brooklyn to meet my mother at the dentist on her lunch hour during the summers. Who were the Knicks going to draft? Why did Bill Parcells chew out Jeff Hostetler? Was Mark Messier and the Rangers actually going to win it all this year? Those questions and many more were all answered everyday in my local paper by reporters I felt I knew. That personal connection cannot possibly be made today with as many websites and blogs readily available via the world wide web. 
Don't get me wrong, I am a columnist for this website and appreciate the wide net cast by the internet's powers but watching newspapers shrink (The Times-Picaune in New Orleans for example) or in some cases die (at least in their print forms like the Seattle Post-intelligencer) due to the lose of ad revenue and the emergence of social media has been very hard. Some of my favorite columnist-Jason Whitlock, Terence Moore, Jay Mariotti, Chris Broussard and Michael Wilbon to name a few-have moved on to ply their trades on television and on the web.
More power to them but I still feel a sense of pride and exhilaration from sending in a game story from Phillips Arena on a Saturday night or from meeting my deadline while at a south Georgia high school football stadium continuously stunned by how large the crowds are for school boy sports. The work I did and continue to do for The Atlanta Daily World and The Clayton News Daily are available online like everything else in this world seems to be but when it appears in those black and white pages it still feels special to me. 
When life becomes a bit overwhelming with all of the entertainment options at arms reach I like to kick back with my local paper and quick trip with an old friend. Sometimes it's really as simple as that.
Staff Writer; Donnell Suggs
One may also connect with this talented writer via twitter; Suggswriter  and also facebook; D. Suggs.