NBA Chris Paul in the City of Angels.
(ThyBlackMan.com) The battle for Los Angeles has begun. After years of mediocrity and playing second fiddle to the LA Lakers, nowadays the Los Angeles Clippers have their eyes on destiny.
After finishing off Memphis 82-72 in regulation led by All Star point guard Chris Paul, the Clippers look like a new franchise. A winning one. This particular win is legendary.
It's going down as the third time since 1971 LA Clippers have won a playoff series.
 
Game 7 will be remembered for many years to come thanks to Chris Paul who chipped in 19 points and 4 assists.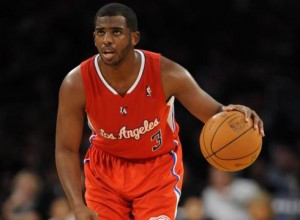 The most surprising stat of the night was 9 rebounds, somehow pulled in by the 6 foot Chris Paul, proving that "it's not the size of dog in the fight – it's the size of the fight in the dog." Its no secret BIG things come in small packages.
Throughout NBA history, small guards have excelled from Tiny Archibald to Isaiah Thomas and now Chris Paul. That's good company to be in. Both have won NBA titles.
Good point guards lead their teams to victory and Chris Paul is no exception. His move to Los Angeles started selling out Staple Center and included Sports Center highlights via alley-oop lobs to a young star famous for dunking over a car…Blake Griffin.
The newly improved Clippers started giving its neighbor [LA Lakers] a run for their money. LA was divided between both teams while Chris Paul's LA Clippers picked up a fifth seed going into this years playoffs. Popularity increased but respect was tied to playoff results due to LA Clippers playoff history.
All eyes were on Chris Paul to perform playoff heroics. Pressure mounted in the first round as Memphis refused to go away, forcing a deciding game seven.
Chris Paul commonly called CP3, laced up his Jordan brand sneakers and took control of the game. He was tenacious on both sides of the ball, forcing turnovers, making key assists and grabbing his share of loose balls and rebounds.
The trade to LA makes a genius out of David Stern who gave his blessing after shooting down Chris Paul's trade to cross town rival LA Lakers. Clippers fans will never forget his generosity.
History may be tied in that one decision. The Clippers move into the second round against heavy favorite San Antonio Spurs.
Facing a number one seed, former championship team and Tony Parker will keep the average point guard up all night, but not Chris Paul. Don't forget he's not average.
He's CP3… Rescuing his LA Clippers from NBA obscurity, one game at a time.
Staff Writer; Deigo Mack
For more info on this talented young man feel free to check out; Mad Mack Smag.