Rick Ross The Maybach Man.
(ThyBlackMan.com) Typically named 'the best rapper over 200 pounds' for his large girth, Rick Ross has recently transformed himself into a solid businessman. Musically, he's always been talented. No, it's not a wake up call. We've been entertained by Rick Ross for years now, starting in 2006 when he dropped his classic debut 'Port of Miami', dropping hints  on his lead single 'Hustlin'.
Who knew it would grow into a monster?
Since then Rick Ross has given us Maybach Music Group, introduced us to talented 'Wale', found Meek Millz on a street corner in Philly, and treated us to a host of radio hits ever since. What else can you ask for?
The only mark on Rick Ross is the validity of his lyrical content.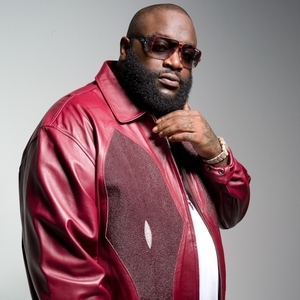 Perhaps allegations of being a Corrections Officer plus being sued over name jacking 'Freeway Ricky Ross' could have fueled questions on his street credibility, but America is engulfed by his music. Rap Heavyweight '50 Cent' has even laid off Rick Ross after both traded diss records and magazine slander back in 2009. If that's not enough to solidify Rick Ross…I don't know what else he needs to prove.
Some say hit records?
'Ricky Rozay' has a string of those reading like this: Hustlin, Here I am, Magnificent, Super High, B.M.F., Aston Martin Music and his latest smash 'Stay Schemin' featuring Drake and French Montana. It's obvious radio Dj's love Rick Ross. But so does P.Diddy.
The Bad Boy himself (P. Diddy) has even signed Rick Ross to a management deal leading his Ciroc Entertainment venture into the future.
It seems all engines are roaring for Rick Ross. Faithful fans wait in anticipation for his next studio album while devouring his last Mix Tape 'Rich Forever' with millions of downloads. Forever the businessman, Rick Ross has given music away free by releasing 'Rich Forever' as a sort of…sample? Regardless, the facts remain clear as Rick Ross goggles.
Upon building up his buzz from the ground up, the lifelong Miami resident has truly become MORE than MUSIC. Somehow Rick Ross has become a household name.
Now we know for sure… everyday he's 'hustlin'?
Staff Writer; Deigo Mack
For more info on this talented young man feel free to check out; Mad Mack Smag.