Think Like A Man – Movie Review.
(ThyBlackMan.com) I have never been one to listen to the critics and I won't start. So today I bought a ticket to see Think like a Man. I simply went to see Think like a Man because it was a movie I thought I would enjoy it and I love romantic comedies.
The story line for Think like a Man is nothing new. Think like a Man has the premise of other relationship movies.  Men want sex and women want love, marriage and commitment. Think like a Man is based on of Steve Harvey's book, Act like a Lady, Think like a Man.  The women in the movie are following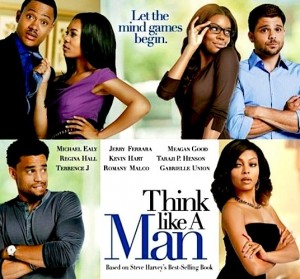 Harvey's book down to the letter and the men have discovered what the women are doing and have chosen to use the book against them.
Just as the book brought on heated debate, the movie Think like a Man has done its share in doing the same.  I will admit that I did not buy the book, nor did I read it. But I will have to say that I enjoyed the movie.
There were no stereotypical roles such as baby mama drama, drug dealing and gun-toting characters.  To me it was simply a light-hearted comedy about a group of 30-something, professional, hard-working, men and women trying to understand the dating game and this thing called love.
The cast worked well together and there was great chemistry. The ensemble included Michael Ealy, Meagan Good, Kevin Hart, Taraji P. Henson, Regina Hall, Jerry Ferrara, Terrance J, Romany Malco and Gabrielle Union. There were also some surprising cameo appearances and of course Kevin Hart's comedic timing as always, kept me and others in the audience rolling with laughter.
Think like a Man is no different from Brown Sugar, The Best Man and Love Jones, just funnier and not as serious. This is one movie that I will be adding to my DVD collection.  If you can look beyond the book, not psycho analyze everything and simply enjoy the movie you will get your money's worth.
Staff Writer; Eleanie Campbell
Also connect via Facebook;
ThePU
.