TLC Mama's Boys Of The Bronx.
(ThyBlackMan.com) Picture a bunch of over grown men still living at home with their mamas and proud of it. That's the case with yet another reality series. This one is called Mama's Boys.
Mama's Boys premiered April 9th on the TLC Network. Mama's Boys centers around five Italian guys who are in their 30's and still living at home with their mamas, with no intention of ever leaving home.
Their mama's cook, clean, washes and even pick out their clothes as if they are still little boys. I would not be surprised if they did not leave the house without their approval. They say they will not be moving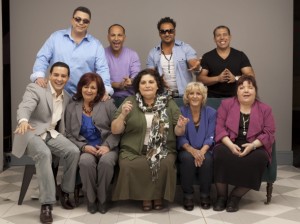 until  they're married. Now this leads me to wonder how many women would even be interested in being such a man.  Because the last time I checked most women were seeking men that are not only employed, but independent and not living with their mama.  Unless things have changed most women are not seeking a man that is still under his mama's housecoat.
But as Chip one of the Mama's Boys cast members says, "I've got my mother to take care of me… why am I gonna get married?" I will admit that I am so glad that this reality show focuses on the Italian community and not ours. Yes I understand what I just said may not be politically correct to some people, but oh well that's how I feel. 
Imagine if Mama's Boys featured men from the black community.  That would only give others more ammunition to use against our men.  It would play on the stereo type that black men or needed, lacking independence and not equipped for marriage. We all know that they brothers have enough to deal with.
I pray that no one wants to piggy back off of this idea and air a copycat show on the BET Network or something like that.  I wonder if there is much of an uproar in the Italian community.  Are they disheartened or even upset that their men are being portrayed as mama's boys.   Maybe not, because while I was viewing an interview with one of the cast members, he stated that this was normal in the Italian community and the women they dated were accustomed to it.
Well I can say that this does happen in the black community, but I cannot say that it is commonly accepted and definitely not glamourized, which it appears to be, according to what is portrayed in the reality series Mama's Boys.
I understand that a mother and son bond is a very special one, but there comes a time when a man needs to move out on his own. I think that mothers from all backgrounds could learn what not to do when it comes to loving our sons. Mama's Boys can be seen Monday nights on TLC.
Staff Writer; Eleanie Campbell
For more writings by this sista feel free to visit; SoulXPosed2U.