Trayvon Martin: National call goes out for Black men to do something.
(ThyBlackMan.com) Many people all over the world have expressed outrage over the shooting death of 17 yr-old Trayvon Martin. Rallies and vigils have been held across theUnited Statesdemanding justice for Trayvon Martin, which starts with the arrest of George Zimmerman. When the local news announced that there would be a rally for Trayvon Martin in Charlotte, NC, I knew I had to be there to acknowledge not only the tragedy of Martin's killing but to be united with other Black people who are fed up with this kind of thing happening to our men, women and children all over the country. While George Zimmerman was certainly not a law enforcement officer with any authority to stop and question people on the street, theSanford, Police Department appears to have covered up the crime thus making themselves a party to it.
Even though one of the responding officers, Ricardo Ayala, wrote in his report that Trayvon Martin was the victim of a negligible homicide offense,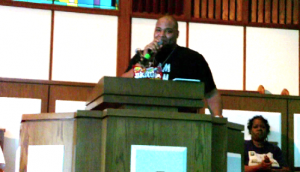 and  either he failed to list Zimmerman as the offender or the report was changed after it was decided Zimmerman would not be charged. It does not seem logical that you can have a victim of an offense but no offender. It is difficult to say when the Sanford Police Department became an accessory to the crime after the fact. At the very least, there appears to be evidence of obstruction of justice and the number of suspects should include anyone who made the decision not to arrest George Zimmerman for the negligible homicide reported by Officer Ayala.
John Barnett, a local civil rights activist, put the rally together in Charlotte, NCand it was held at the Chapel Memorial Baptist Churchin the Thomasvillecommunity. One of the speakers at the rally was Joseph Guzman. Guzman was in the car with his friends Sean Bell and Trent Benefield in Queens, New York on November 25, 2006, when plainclothes and undercover NYPD officers fired 50 rounds into the car in which they were traveling. Joesph Guzman who was hit 16 times in the hail of NYPD bullets would miraculously survive. He now lives in Charlotte, NC. Mr. Guzman still suffers from his injuries but would make his way up to the podium to speak about Trayvon and while he did not speak for long, one sentence, just one remains cemented in my mind. Guzman said, "Black men, we have to do something". 
Just seven words, but words that ring true in the minds of many Black men across the country who have for the most part felt helpless to protect their communities, their families and their children from bullets often fired by police into the bodies of far too many unarmed Black men and boys and more recently, an unarmed Black woman gun downed while hanging out with friends by an off-duty Chicago cop. It seems even when off duty, cops make time to kill Black people. Her family compares the tragedy to the Trayvon Martin case.
"First you got Trayvon, now you got Rekia," said Martinez Sutton, the brother of 22-year-old Rekia Boyd.
One group of Black men is doing something. While some people in the Black community do not agree with the New Black Panther Party's call for the capture of George Zimmerman, it seems fewer and fewer are opposing the group's call to action. One of its leaders,  Mikhail Muhammad, along with other party members are protesting in Sanford, Florida and recently announced a bounty of 1 million dollars while calling for the  mobilization of 5,000 Black men to find and detain George Zimmerman. It is feared that since Zimmerman has yet to be charged with the crime of murdering Trayvon Martin, he may flee the country to escape paying for his action the night of February 26, 2012. "If the government won't do the job, we'll do it," said Mikhail Muhammad.
A grand jury is not scheduled to convene on the matter until April. Muhammad also called out President Obama who to this point has avoided speaking to racial issues in a country whose citizens have sent him thousands of death threats perhaps by people angry that a Black family occupies the White House. Muhammad said, "To President Obama, you got to do your job on this one buddy, we don't need a beer, we don't need to laugh and have a good time, our children are dying". The beer comment was in reference to the only time President Obama has addressed the relationship between law enforcement and the Black community when a white cop arrested the President's friend Skip Louis Gates. The President invited the two men to the White House for what was dubbed "the beer summit".
Staff Writer; Scotty Reid
To join this brother Black Talk Radio Movement feel free to visit; BT Radio Network.
Also connect via Facebook; Black Talk Fan Page.