Mary Mary Joins the Ranks of Reality TV.
(ThyBlackMan.com) Are We Ready For Another Reality Television Series? Well apparently so because the musical duo, Mary Mary have now joined the ranks of other celebrities with reality TV shows.
Erica and Tina Campbell make up the multi award winning Gospel duo Mary Mary. Mary Mary began their singing careers at a very young age singing in the church choir and studying voice in college. Before becoming internationally known the duo Mary Mary, had the opportunity to tour with traveling gospel shows. They also sang backup for various R and B acts such as Brandy, Brian McKnight and Eric Benet.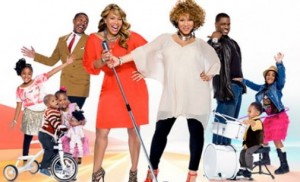 Mary Mary gained a national audience with their first single Shackles (Praise You) from the album Thank You in 2000 with overwhelming success. Mary Mary has recorded numerous times since then and they are as strong and influential as ever.
Their popularity crosses the secular and Christian community, reaching a wide audience. They have won a number of musical awards including The Stellar Awards, American Music Awards, The Grammys, BET and the NAACP Awards to name a few.
The reality show entitled Mary Mary centers around the sister's professional and personal lives. Mary Mary will give their fans a glimpse into their world of caring for their families, working and doing what they do best. Singing and spreading God's word.
In addition to their television show Mary Mary, the sister's lives are busy ones to say the least. Along with their new show there's the promotion of their new single Go Get It. There is also Tina's pregnancy and Erica raising a little ones herself, which I am sure will make for very interesting TV viewing.
Possibly it's there other halves that make pursuing all of their endeavors manageable. Erica's husband record producer, Warryn Campbell and Tina's husband Teddy Campbell will also be featured on the reality show, Mary Mary. Coincidentally both of their husband's last names are Campbell, but neither are related.
The Mary Mary show will premiere March 29th on the WE TV Network after another popular African American Reality Show, the Braxton Family Values. Maybe this will bring a new flavor to black reality TV. Will this show be a success or a dud? We'll just have to stay tuned and find out.
Staff Writer; Eleanie Campbell
For more writings by this sista feel free to visit; SoulXPosed2U.