Whitney Houston Secret Life.
(ThyBlackMan.com) I swear folks really do like to show their behinds after someone has passed.
No, I'm not talking about Bobby Brown and his entourage/uninvited family members, who decided to ignore the immediate family's request that attendees bring only two or three additional guests to Whitney Houston's funeral and then made a scene/spectacle because he couldn't get his way.  We'll just chalk that up to the silliness and family drama that often occurs at funerals.  No, instead, I'm talking about LGBT Activist Peter Tatchell, who penned a piece for the UK Daily Mail entitled,  "Whitney's REAL tragedy was giving up her greatest love of all – her female partner Robyn Crawford"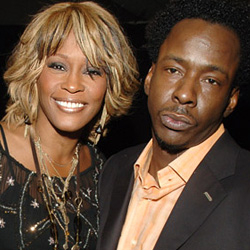 Oh yeah, folks get real messy and ballsy after someone passes. They start fighting over money and estates and challenging each other over who loved the deceased more and showing up at the funeral to declare that they have been having a secret affair with the deceased for 20 years and have several children in another state – unbeknownst to the deceased's faithful wife.
But Tatchell, who as far as I know didn't attend the funeral, claims to have inside knowledge of Houston's alleged lesbian affair with long time assistant/best friend Crawford. According to Tatchell, he met Whitney and Crawford at an HIV vigil in London in 1991, where Houston was speaking in support of people with HIV.  He says that, "When I met them, it was obvious they were madly in love. Their intimacy and affection was so sweet and romantic. They held hands in the back of the car like teenage sweethearts. Clearly more than just friends, they were a gorgeous couple and so happy together. To see their love was infectious and uplifting."
He then goes on to say that homophobia undoubtedly added to the pressures on Whitney to stay quiet about their relationship and is a contributing factor to her early demise. According to him, "Whitney was happiest and at the peak of her career when she was with Robyn. Sadly, she suffered family and church pressure to end her greatest love of all. She was fearful of the effects that lesbian rumors might have on her family, reputation and career. Eventually she succumbed. The result? A surprise marriage to Bobby Brown."
Finish story over at; Madame Noire – Whitney Houston Secret Life, etc.
Also follow MadameNoire on Twitter; http://twitter.com/MadameNoire.
and Facebook; http://www.facebook.com/MadameNoire.