Beyonce Opens Up About Motherhood.
(ThyBlackMan.com) Beyonce recently gave her first interview about being a new mother to UK's Star Magazine. The singer-entertainer has visibly been seen in public looking happy and grateful for her new treasure that arrived early this year. Since giving birth to Blue Ivy Carter, the new mother has been bonding with her daughter and making guest appearances at several events. Beyonce and her husband, Jay-Z, released pictures of the baby via his website. Beyonce gave birth to Blue Ivy Carter on January 7, 2012, at Lenox Hill Hospital, in New York City.  
The world has watched a southern African American girl, born in Houston, Texas, rise to superstardom and become of the most sought after entertainers in the 21st century. Beyonce Giselle Knowles-Carter has stayed at the top of the charts since her debut with the R&B group Destiny's Child.
In spite of her success, Beyonce told the magazine that Blue Ivy Carter will have a, "normal loving family."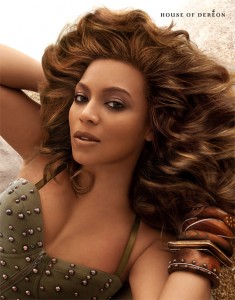 Beyonce acknowledges that her husband, Jay-Z, who has his own claim to fame, will be an active father.
"He will change diapers…He is going to be a very hands-on father. He has already said publicly that providing isn't love. Love is being there. Love is doing the little things for your child," she continues in her interview with the magazine.
As two famous parents, the couple maintains that they will be proactive by shielding their daughter from scams, and obtaining a trademark license for her name. In addition, the Grammy-Award winning singer has put to rest allegations that she and her husband rented a hospital ward to deliver Blue Ivy Carter. Though Mrs. Carter will be ridiculed for her every move, the African American entertainer is continuing to shine and still is a musical force to be reckoned with globally.
Many did not know that the 30-year old singer had several miscarriages before having a successful pregnancy. Blue Ivy Carter was delivered by c-section. In honor of the gift that was bestowed upon their lives, she and her husband have expressed love differently for their daughter. The starlet has been doting blue fingernail polish to commemorate the birth of Blue Ivy and wearing motherhood quite curvaceously.
A song [Glory] was released by Jay-Z after his daughter was born. The rapper expresses his gratitude for Blue Ivy Carter, and chimes on the single, "The most amazing feeling I feel, Words can't describe what a feeling, for real, Baby I'll paint the sky blue, My greatest creation was you."
Beyonce has been on the move since adding mother to her resume too. The singer has released a new photo campaign for her House of Dereon fashion line debuting this spring/summer. And, in 2013, she will star in the remake, "A Star Is Born," produced and directed by Clint Eastwood.
There are no more reports available about Beyonce and Blue Ivy Carter. By and large, this means the mother and daughter are doing just fine.
View Pictures of Blue Ivy Carter
Associate Editor; kYmberly Keeton
To learn more about this talented writer feel free to visit; Kreative Young Millionaire, Inc….
Need a website or blog? Head over to; Kym K Balance Network.