Nicki Minaj Grammys Outcry.
(ThyBlackMan.com) Nicki Minaj probably envisioned her 2012 Grammy performance was going to be a game changer, and a lot of people went along for the ride. Grammy announcers hyped it up to be an unforgettable performance. Show producers placed it towards the end of the Grammys, the dangling carrot luring viewers to stay tuned.
However, Minaj's big gamble failed to pay off. Her "Exorcism of Roman" routine was panned by critics and viewers. Could the pop star be losing her artistic direction and risking her career?
The "Exorcism of Roman" was supposed to be an epic introduction of Minaj's oft-mentioned alter ego, Roman Zolanski. Rapping her song "Roman Holiday,"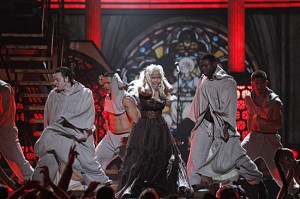 Minaj opened her performance with a confession to a priest, then cut to a video of a priest attempting to perform an exorcism on the pop star, and then finished with her levitating high above the stage.
It was as confusing as it sounds. Minaj's description sheds a little more light on the frenetic performance. "I had this vision for Roman. I had this vision for him to be sort of exorcised," she told Ryan Seacrest on his radio show. "People around tell him he's not good enough because he's not normal. So his mother is scared and the people around him are afraid. He wanted to show that not only is he amazing, but he's never going to be exorcised, even when they throw holy water on him, he still rises above."
That's a highbrow concept for a show that aired to 39.9 million viewers across the country, many of whom barely know who Nicki Minaj is, let alone any of her alter egos.
Finish story over at; TheGrio – Nicki Minaj Grammys BackLash, etc.
Also follow TheGrio on Twitter; http://Twitter.com/TheGrio.
and Facebook; http://www.facebook.com/theGrio.