Black Women: Badges of DIS-honor….
(ThyBlackMan.com) Here are a couple of titles that we as Black Women need to stop wearing like they are a badge of honor.
1. Baby Mama
2. Miss Independent
3. Jump off
4. Wifey
5. Bi** and the Baddest one at that!
Baby Mama-Too many of us not only proudly wear this title, but we also STRIVE to be one! This seems to be the new occupation on the scene. We don't want to be wives, we want to be "baby mama's" so we can have what we think will be security in the form of a child support check. We are training our daughters to be prostitutes when we teach them the "pay to play" mentality.
When we as MOTHERS, don't know our value, we become the MADAM and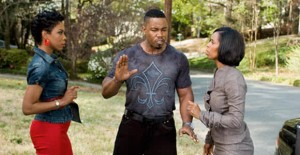 groom our daughters for a pimp game. If our daughters don't see US stressing the importance of being a wife, if our daughters don't see US stressing the value of our wombs, the sanctity and security that marriage brings, why would they want it for themselves? If WE seem complacent being "baby mamas" why would our daughters do anything different?
Miss Independent- I-N-D-E-P-E-N-D-E-N-T, Do you know what that means? I know Webby and Destiny's Child have us PROUDLY declaring our Independent from men, specifically BLACK MEN.  You have "your own car", your "own house", you have an abundance of degrees right?  There is nothing wrong with being proud of your accomplishments, and if you are on your own, then you should be able to pay your OWN bills, since you are an adult. I mean, that makes sense right? So why get upset when we see Brothers with women that don't look like us? Or those that say that have NO desire to be with Black Women? We are looking at the "effect" but not the "cause". Haven't we have been telling them we don't NEED them? I can do this WITHOUT you? Who would go/stay where they are not needed? We talk about the Brothers, posting how they hate or dislike Black Women, but could it be BECAUSE, we exuded hatred towards them FIRST? Saying I don't need you sure as hell isn't saying "I love you" so if we as women want a new "effect" then let's focus on a better "cause". If we desire the love of our Brothers, let's make it known. Because at the end of the day, as much as you say you are "independent" and you can do it everything by yourself, at the very core of your essence you know you don't want to.  If you are proudly claiming independence, then you have lost the right to talk about the caliber of Black  Men and why you don't have one, because a synonym for Independence is alone, and that is exactly where you will end up; ALONE!
Jump Off-Now a jump off is a sex partner; nothing more nothing less.  Is this all we are worth Sisters, simply fulfilling a DESIRE? Being a pleasure receptacle? Do you know how much mental, emotional, spiritual, and physical wear and tear that places on us as women?  If we feel that all we have to offer a man is sex, then don't expect anything BUT sex in return. A man views you in the same manner in which you see yourself.
Wifey- Sisters, I know it may sound cute to be a "Wifey" I know Next had a song about it and when I was younger I sang "yes I'll be your Wifey", but now that I am older, I fully understand that in order to be a man's wife, he has to OFFICIALLY make you his wife, anything else is just a glorified girlfriend. If your goal is to actually be a "wife", stop settling, for being the "Wifey' and stop preforming all those "wifely duties."
Baddest B***- What ever happened to "who you calling a b**!"? Now we are PROUDLY calling ourselves the "Baddest B**? If you are a SELF-PROCLAIMNED Baddest b**** then your ONLY OPTION is the WORST dog. As women we were designed to comfort and console Men. God didn't say I need a b**** to console me, comfort me…..you know why? Because a B**** can't do those things! How can a dog bring comfort to  God? A b**** walks on all fours, so you can't elevate a man because you are already on a lower level.
You've placed yourself on the level of a canine Sisters! So you become a dog groomer. You wash a dog. You feed a dog. You train a dog, then you complain about "the dog in your house" but if you call yourself a B**** then you have INVITED this "dog" in your house and in your space, then complain when you get dogged out. You won't get tired of being dogged until you get tired of being a B****. . Plain and simple.
Let's change the way we think about ourselves. Let's change the way we view ourselves. Why do we call ourselves EVERYTHING but what God created us to be? Why can't we be a Queen? Why can't we be Godly Women? Why don't we want to tap into that part of ourselves? We can't attract a Godly man being a woman of this "world".
So starting today, let's retire these badges of "dishonor" when choosing to describe ourselves. Let's be what we REALLY are: beautiful Black Queens. You'll get much more respect being a Queen than you ever will being any of the above.
Staff Writer; Nojma Muhammad
To learn more about this talented sister, feel free to visit; Nojma Reflects.