Ron Paul holds lead over Mitt Romney…
(ThyBlackMan.com) Republican presidential candidate Ron Paul continues to hold a slight lead over rivals Mitt Romney and Newt Gingrich in Iowa. The Texas congressman finished with 21 percent of likely Iowa caucus voters support in the latest American Research Group poll  released Friday.
Mitt Romney finished with 20 percent, followed closely by Mr. Gingrich who finished with 19 percent of the votes.
This is the first American Research Group poll that has resulted in Ron Paul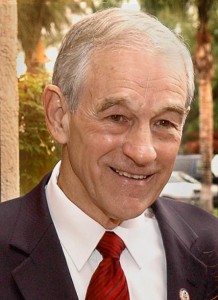 finishing with the lead. His strongest support came from independent voters,  as 33 percent of non partisan voters selected him, while Newt Gingrich and Mitt Romney tied at 17 percent of independent voters in the poll.
Contrastingly, the race is tighter among registered Republican voters, 21 percent of whom chose Mitt Romney, with Newt Gingrich at 20 percent and Ron Paul at 17 percent.
The poll shows Ron Paul's support has not declined in the Hawkeye state despite receiving heightened attention for a series of controversial newsletters released under his name in the 1980s and 90s. The newsletters contained prejudiced comments against African Americans, Jews and gays.
Last week Ron Paul maintained that he had no knowledge of the racial content of the letters until years after they were released, despite several videos from the mid 1990s that surfaced last week with him talking about the newsletters.
Texas Governor Rick Perry finished in a distant third place with 9 percent of the votes.
The American Research Group poll is consistent with several other polls in recent weeks where Ron Paul has finished with a slight lead. After trailing Mr. Gingrich and Mitt Romney for months in Iowa, the Texas congressman is emerging as the likely winner of next week's Iowa caucus vote.
The Des Moines Register ran a front page article about Ron Paul's chances of winning the nation's first primary vote next week, asking Ron Paul supporters why they were voting for the candidate who seems to stand alone among the 2012 GOP field in terms of foreign and domestic policy views.
"Whether or not you agree with Ron Paul, the fact that he's able to get out and connect with voters and get them to come and support him — that's really what the caucuses are supposed to be about," Matt Winter, an independent voter said to The Register.
"He has an amazing organization, no question. … They're out there giving out signs, signing people up, following up with supporters, and it's paying off," Mr. Winter added.
The Texas congressman has not fared as well in nationwide polls, as the former House Speaker Gingrich has maintained a slight lead nationally over Mr. Romney and Ron Paul.
The American Research Group poll was conducted between December 19th and December 22nd among 600 likely Iowa caucus voters with a margin of error of plus or minus 4 percentage points. Ron Paul still on the political trail, and shall visit a city near you soon. Ron Paul the GOP leader, and no longer a dark horse. Ron Paul 2012 campaign pushes ahead…