Tyler Perry and Barack Obama: Too Many Expectations…
(ThyBlackMan.com) A few weeks ago I entered into a comment conversation on The Fresh Xpress about Tyler Perry and whether his brand of work was coonery or comedy. The author of the post and I went back and forth about Tyler Perry's work, the time that he broke into the industry, and why so many people — Black people especially — pile on a man making movies and hiring Black actors and actresses in an industry otherwise starved for such content. The conclusion I came up with was that it was because Tyler Perry broke into the industry at a time where he was the only and not one of many, the expectations of an entire race were unfairly put upon him to show positive non-stereotypical non-archetypal images, and when that didn't happen; BOOM, BACKLASH.
Fast-forward a few weeks later and a post that I published both here and on The Urban Politico about President Obama's speech to the Congressional Black Caucus rubbed some people the wrong way. In a comment thread that  blew up, my blog partners totally disagreed with my point of view as to why Obama needs to blow all his pomp and circumstance the GOP's way. I conclude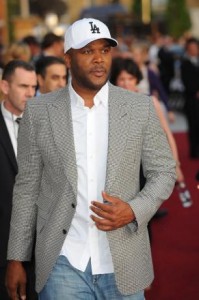 that the outrage of me saying Black people, the CBC specifically, didn't need to hear his "put on your marching shoes on" message is again a case of too many expectations of an entire race being put on one person, the fact that he is President be damned.
President Obama and Tyler Perry are at unique junctures in their lives. They are the first to do the things that they have done as quickly as they have done them in this country. President Obama went from a little known Illinois State Senator to a U.S. Senator (only the fifth African-American to reach the chamber, the third since Reconstruction) to President in less than a decade. Likewise, Tyler Perry went from a homeless man to a multi-media powerhouse who doesn't have to tour on the chitlin' circuit if he doesn't want to but can offer box office smash after box office smash and TV sitcom after TV sitcom. The feats of President Obama and Tyler Perry have never been matched; not by Colin Powell, Condoleeza Rice, or Carol Moseley Braun or even Spike Lee and John Singleton. But as the saying goes with great success comes great responsibility; but the question is has it been too much?
Tyler Perry went from dramedic playwright to film producer, director, writer, and actor. His rise to the top has been nothing short of meteoric. He's hailed by Oprah, Janet Jackson, N'tozake Shange, Sapphire, and dozens of Black actresses for giving them a chance to work. He's proven Black people do spend money on movies if the movie is saying something to them. As the Black community celebrates the 20th anniversary of Boyz N the Hood and the 25th anniversary of She's Gotta Have It Tyler Perry is possibly preparing to start his own network. That in and of itself is problematic for many. Some feel that honor would be better served for a Spike Lee or John Singleton over the inexperienced, learn by trial and error Perry. But clearly that's not the way the chips fell; yet Perry receives so much hate for telling the stories that he wants to tell.
No one piles on Spike Lee for being too militant, too controversial, too inspired by race, rage and conflict. No one piles on John Singleton for being too hood, too stereotypical, and too ghetto. But it's okay to dump on Tyler Perry because he's what? a Christian who loved his Mother and Grandmother and Aunts so much he honors them by playing them. If Tyler Perry launched in the 90?s where there were options like Love Jones and Soul Food, Boomerang and Poetic Justice, or The Best Man, The Wood, or Love & Basketball would his credibility as an artist even be questioned? I doubt it. But because he came after the onslaught of "good" Black films becoming as rare as a water oasis in the desert he is expected to offer positive images, without stereotypes, or historical archetypes, while still entertaining, informing, and uplifting a race. That's too much for me to type as a job description let alone for someone to do. Therefore our expectations of Mr. Tyler Perry exceed his delivery leaving his audience starved and disappointed.
Is that not the same feeling among President Obama's base.
I support our President. I will criticize him when I think he's wrong, and praise him when I think he's right. Am I tired of hearing his talking points without swift action? Yes. Do I understand that his hands our tied up in the political bureaucratic ropes of a Congress that refuses to work with him? Yes. Do I wish he would be more forceful all the time in his message? Yes. Do I want him to do something about Black unemployment and widening poverty and education gaps? Yes. But I have to remember as he's stressed so many times, he is the President of all of America not just Black America. Should he have a "black agenda" as did Clinton and Bush to some extent did before him? Yes. Should that be his only agenda? Well, that's illegal.
As President, Obama has a duty to every American in this country to do what's best for them. As the country's first Black President he's seen by some as having a duty to Black people only to right the wrongs it took some 400 years to create. It will not happen overnight. Dumping on him for not being swift enough in his actions to help his people also doesn't help the situation.
Our expectations of both Tyler Perry and Barack Obama are unrealistic. Tyler Perry will first be true to himself, not to his critics who want to see him do something different. If it ain't broke don't try to fix it. As for Obama, his policies targeted toward Black people have to be passed before they can work and that's not going to happen in a Congress bent on making him a one term President.
Our expectations of both men and the arenas they work in our admirable. They show we are engaged in politics and concerned over the images of ourselves blasted on television. But our expectations also add another level of pressure to each man in their arena doing groundbreaking things that has never been done before. There is no "this is how you lead a Nation and your race manual" for the first Black President, just as there is no "this is how you entertain Black folk and appeal to their social consciousness manual" for a media mogul. There is only trial and error. Obama and Perry will try and they will err. To err is human. Barack Obama and Tyler Perry will also try and succeed. It is their successes we should encourage more of (even if we don't completely agree with them) and their errors we should hold them accountable to in a way that encourages them to course correct rather than ignore the teeming voices of "HELL NAW."
We must remember our expectations will always be secondary to their own actions.
Staff Writer; Nikesha Leeper
To connect with this sister feel free to visit; Change Comes Slow.