Dr. Boyce Watkins; Kashif Pervaiz kills wife, Black Man did it…
(ThyBlackMan.com) Kashif Parvaiz didn't have a good relationship with his wife, Nazish Noorani.  In fact, the marriage had deteriorated so badly that divorce wasn't enough.  Instead, he wanted to see his wife dead.
So, Kashif took matters into his own hands, setting up a murder-for-hire situation that left his wife's dead body in the street.  Reaching for every angle he could find, Kashif first used America's anti-Muslim sentiment to his advantage, telling police that the assailants had called him a "terrorist" as they killed his spouse.
In addition to the first lie, Parvaiz also used the prototypical media-driven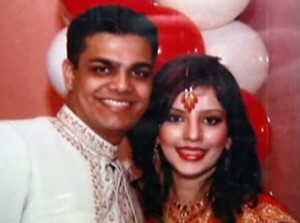 blueprint for the kind of men who might choose to kill an innocent woman for no reason:  He said that they were African American.  While he initially stated that the three assailants were of mixed race, he eventually changed his story, stating that they were all black.
To the credit of the Boontown police, they weren't going for it.  They were initially suspicious because Nazish had sent her brother a text message stating that she "can't talk to him cuz he abuses me … I'm so tired of this. … Someday U will find me dead, but it's cuz of Kashi … he wants to kill me."
Parvaiz's decision to kill his wife and lie about it is similar to that of Charles Stuart, a Boston man who murdered his pregnant wife in 1989 and said that an African American committed the crime.  This led to a city-wide manhunt in which scores of black men were harassed by police. Susan Smith, a South Carolina woman, killed both of her children and also said that a black man committed the crime.  There are several other instances in which the "black man did it" story was told to police, with the story not holding up under further scrutiny.
The Morris County Prosecutor, Robert Bianchi, says that Parvaiz plotted with a woman, Antoinette Stephen, to commit the murder.  He said "there is obviously a relationship" between Stephen and Parvaiz. "I am not saying it is a physical relationship," he said. "I am not saying it is a girlfriend-boyfriend relationship."
After telling Stephen about the trouble in his marriage, Parvaiz received a text from her stating that she would "think of something."She also said, "You hang in there. Freedom is just around ur corner."
Situations like this one are clearly disturbing, particularly to people of color.  There are thousands of black people who've been incarcerated for crimes they didn't commit, in many cases because they were the most convenient suspect.  I spoke just yesterday to a friend about a young man who was falsely accused of murder.  His struggling family mortgaged their home and spent $30,000 on his legal defense, only to have the jury deliberate just five minutes to find him not guilty.  Unfortunately, there are too many other cases where the man could not raise thousands of dollars for a legal defense, and there is no financial recourse for those who've gone broke trying to defend themselves.
One has to also give the police force credit for thoroughly investigating the crime and not believing the simplest story that was presented to them.  This is a reminder that there are good law enforcement officials across America who are determined to do the right thing.  At the same time, we must stop and consider how many cases there have been in which the public nature of a crime has led officers to go into the community to arrest an innocent black man with a criminal record, knowing that he wouldn't have the ability to defend himself. For every case in which the lie was eventually brought to light, there may be quite a few others where the liar took his secret to the grave and an innocent American spent his life behind bars because of it.
America is no post-racial society, and anyone who thinks otherwise should simply pay a quick visit to the courthouse.
Staff Writer; Dr. Boyce Watkins
Dr. Boyce Watkins is the founder of the Your Black World Coalition. For more information, please visit http://BoyceWatkins.com.