Dr. Boyce Watkins; Black Male Unemployment at a 40-Year High: Something Has Got to Change…
(ThyBlackMan.com) I recently read a report stating that black male joblessness is the highest its been in 40 years.  In addition to being the least likely to have gainful employment, we are also the ones who are most likely to end up in prison and without an education.  These glaring facts don't even include astronomical rates of black male homicide, HIV infection, alcoholism, heart disease, etc.
As it stands, black men are at the bottom of the barrel in nearly every statistical category.   You don't get this kind of devastation without highly coordinated participation and strategy, even by the victims themselves.  All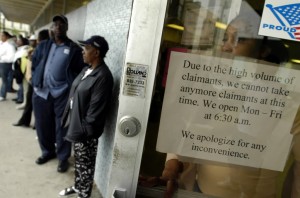 parties, including us, have played a role in creating the hell on earth that defines the existence of the black male in America. Here are just a few factors that have supported the continued destruction of black men:
1) Good old fashioned racial discrimination: As much as we'd like to believe that black men choose their own demise, the reality is that there are significant challenges even for those who do all the right things.  President Barack Obama, arguably the most powerful black man in the history of the world, has constantly had his qualifications challenged by those who don't believe that a black man should be running the country.
President Obama's experience is replicated in nearly every corporation, factory, university and restaurant in America. My academic advocacy for black men led to tremendous ostracism from my colleagues at Syracuse University, where my 13 years of post-secondary education and 14-hour a day work ethic were unable to trump the color of my skin and the fact that a black man has not been tenured by any department in my business school in over 100 years of operating history.  But I don't feel sorry for myself, because I hear from thousands of brothers across the country who do everything in their power to succeed, but are still being told that they aren't as capable as the white guy down the hall.  In fact, it all starts when black boys hit the first grade.
2) Black males buying into self-destructive images in media: Apparently, someone wrote a book years ago which says that nearly every image of the black male on the radio or television must consist of someone who is either busting rhymes, dunking a basketball, throwing a football, getting high, getting drunk, getting arrested, having sex with every girl in the world, wasting his money on ridiculous jewelry, not going to school or carrying a gun on his hip.  These images are absorbed by young black boys at such an early age that many of them don't have a chance.  Before the young man can discover his greatness, it is crushed like a grape by the sick, sad and disgusting influences which lie all around him.
Many black males who seek to escape this cultural tornado are ridiculed by those who've decided to drink the kool-aid.  Some are shot by other black men from the wrong side of the tracks.  Some are influenced by the fact that they receive more adulation for winning a basketball game than they do for passing a math test.  Such perceptions are reinforced by every corporation that tells the conscious rapper to act like a buffoonish thug to sell records, every woman who rewards her man for "keeping it hood," and every parent who doesn't correct their son for having five or six babies mamas without having a job.  We'd be lying to ourselves if we didn't acknowledge that our own counter-productive choices don't sometimes lead to our demise.
3) Politicians who just don't give a damn: This is not meant to be an essay to pick on the two black males in the Obama Administration (the President and Attorney General) who've hardly said a word about disproportionate black male unemployment and incarceration.  Nearly everyone in Washington is tone deaf to the struggles of black men.  If whites were going through one-half of what we're experiencing, we'd believe our nation to be in a state of emergency.
When I ask the political types what they are doing to address unprecedented black male unemployment, I hear that the rising tide will lift all boats(translation: If we help the white folks, then black people will benefit as a side effect….kind of like Trickle Down Economics).  When I ask about black male mass incarceration, I hear something about an 18-to-1 differential in the sentencing between crack and powder cocaine representing progress (18-to-1 is a little ways from true equality right?  Just checking – and this doesn't come close to addressing the problem).   When I ask about employment discrimination, I hear about the end of Don't Ask, Don't Tell, helping gays in the military.
Let's be clear:  All of these political gains are nice, but almost none of this matters to black men who struggle to get ahead on a daily basis.  The truthful translation of all of this political cowardice and double-speak is that it's simply unprofitable (politically, economically and otherwise) to advocate on behalf of black males.  Marginalized men don't make a difference at the polls and with black males effectively becoming the social cockroaches of America, the political backlash for black male advocacy is simply too strong for morally-bankrupt politicians to endure.  Effectively, we're locked out of most forms of political support, not simply because we don't have adequate coalitions in our communities, but also because there are other groups which seek to punish those who help us progress in this society (i.e. which is why even most black politicians in Washington are afraid to address clear, rampant and easily verifiable racial inequality).
The result is that black men must unify with one another.  Organizations such as 100 Black Men of America do a great job of getting the ball rolling, but much more must be done.  When the black man dies, the black family dies, so we are in all in this together.  As it stands, black children are filling the cradle-to-prison pipeline like never before, unmarried black women are being murdered in droves by a frightening HIV epidemic, and all of us are experiencing a shocking degree of post-traumatic stress disorder after enduring unspeakable urban tragedies at an early age.  All of this must stop and it must come to an end right now.
When you see a black boy acting like an ignorant thug, correct him.  When your brother or boyfriend has five kids that he's not taking care of, get in his face about it.  When your son brings home bad grades from school, take him off the basketball team and get him a tutor.
In addition to addressing individual accountability for the challenges of black males, we must have zero tolerance for our society's insistence upon keeping black men at the bottom of the socio-political barrel.  A path must be made for those men who make good choices and seek to do the right thing. Our society, jails and schools create more criminals than hip-hop music could ever create.
Institutions that do not hire African American males must be confronted with a ferocity that they've never witnessed before.  Politicians of any race who are too cowardly to speak up on black mass incarceration or unemployment must be fired from their jobs – power means nothing without having the courage to use it.  Similar to the spirit that created the Million Man March in 1995, black men must come together to form empowered, aggressive and thoughtful political coalitions that fight for no-nonsense solutions to our problems.  This must be done to protect ourselves and to support our families.  Our families must also stand with us, for there are millions of black men who are committed to challenging ourselves and each other to do better.
As I mentioned at the beginning of this article, the state of black male existence and employment is at a 40-year low.   But this 40-year low is preceded by a 400-year old problem.  If we continue to address the problem in the same ways we have in the past, we will continue to reach the same conclusions and find the same faulty solutions.  It's time for a new day in black male America and that day must come right now.
Staff Writer; Dr. Boyce Watkins
Dr. Boyce Watkins is the founder of the Your Black World Coalition.  For more information, please visit http://BoyceWatkins.com.