Scott Talley; Making All the Right Moves… "Former College Football Players"
(ThyBlackMan.com) Former linebacker makes his biggest hit by teaching kids life lessons through chess…
Unlike Cam Newton, Von Miller, Marcell Dareus and the other former collegiate standouts recently selected by professional football teams, Kevin Fite never experienced the thrill of having his name called on draft day.  However, once upon a time, he did share the dream of those fortunate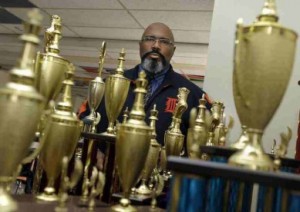 players.
"If you play football in high school or college, or any level for that matter, playing football in the NFL is the dream," said Fite, who carried his football dreams from Detroit to the practice field of Southern University in the mid 1980s.
Southern University in Baton Rouge, La. has produced a litany of football stars including NFL Hall of Famer Mel Blount and future Hall of Famer Aeneas Williams.  Fite had aspirations of making his own special contribution to the school's football lore, but a reoccurring back injury took him out of the sport in 1986, before he could even play a game for the Jaguars.
Stripped of the strength needed to take down charging running backs, Fite, a former linebacker, still had the power of his mind.  And Fite's mind and love for another game—chess—has allowed him to contribute to society in ways that most professional athletes can only dream about.
"In my wildest dreams I would have never imagined anything like this," said Fite, who has been coaching chess in 2002 and is the founder of the Detroit City Chess Club.
"I have seen young people transform their lives through chess.  The game teaches patience, it teaches you how to think ahead, these are all the things we need to build a successful person in society." 
The roots of the Detroit City Chess Club can be traced back to Duffield Elementary and Middle School in Detroit, where Fite was a math teacher.  As Fite has continued his professional journey, and word of the group has spread, the Detroit City Chess Club family has expanded to roughly 500 members.
"We are a family, so once you join you are always a part of the club," said Fite, who is now dean of students at Washington Parks Academy, a Cornerstone Charter School located in Redford, Mich.  "My old students all come back and help.  They talk about what they have been able to accomplish through chess, and they also give speeches about the mistakes they have made and some of the pitfalls they have experienced in life."
Through school and club competitions, students coached by Fite had won five national championships and 13 state titles entering May 2011. 
"These kids have competed against schools and students from all 50 states, including New York, which is the capital of chess in our country," Fite said.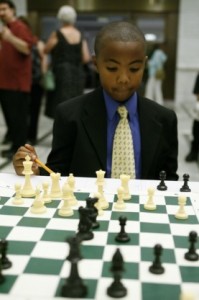 "At the tournament level we're talking seven rounds and each game can last up to four hours.  Parents are not even allowed to watch; it's that serious."
In the days immediately following the NFL draft, Fite had no time to talk about his old sport; he was too busy preparing students for the United States Chess Federation's National Elementary (K-6) championship in Dallas.
"To tell you the truth I haven't thought about football since I started coaching chess," Fite said.  "I found my passion.  I'm not a great chess player, but God has blessed me to be able to teach it.  I also was blessed to have a great coaching mentor in Glenn Smith, and now I'm trying to share these blessings with some talented young people."
Fite says chess is just a small part of his overall mission.
"Most of all, these kids need nurturing; they need love," he said.  "Some days we don't even talk about chess, we just talk about life.
"Our kids are going to be the future humanitarians; they're going to be the doctors and the lawyers.  Chess is just an avenue to get them there.  This is much more than a game; we're trying to build leaders through chess."
Staff Writer; Scott Talley
This talented journalist is owner of a public relations firm; Scott Talley & Associates, Inc….