Black Man, Black Woman Where is the Love?
(ThyBlackMan.com) As I sit here writing this article, it suddenly dawned on me that the beautiful concept and image of 'Black Love' appears to be fading away.  It's like 'Black Love' has just become another meaningless term from our past.  Sometimes it seems like we now have the Black Man and Black Woman at war.  Some would say there is no turning back from this trend.  Think about it…images and examples of  'hoochie mamas' and thugs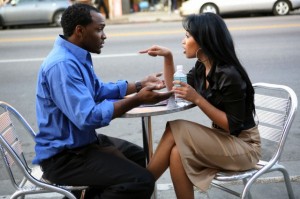 showing their negative and ignorant behavior appear on TV daily for all the world to see on shows like 'Maury' and others.  And the sad truth is that it's not only the non-black population that tunes in to this mess.  Even worse, our own people gladly look forward to getting their 'hood' drama fix on these shows.  All the while, the positive image of Black love and the Black family slowly becomes a distant memory.
That example alone makes me wonder, "How did this all come about?"  When did the image and idea of black love get so twisted and negative?  In our daily lives one can't get far from brothers and sisters who routinely blast their own people…Yes—sisters uttering phrases like "I need a REAL man"; "Black men are dawgs";  "Deadbeat Dads", etc.  And on the other side, not to be outdon, brothers remark, "Sisters are gold diggers"; "They only want thugs" and even "Black women ain't sh*t"!  This divide and self-hate has our people looking for love in all the wrong places.  It has us perpetuating these ugly stereotypes of each other and forgetting the beauty of Black Love.  We need to change this conversation.  On that note, starting with the women, I would like for my "sisters" to answer the following questions:
1. Are you literally mad at the black man? Why?

2. Do you feel we as men have abused thy queens, instead of uplifting you?  How?

3. Can black love survive and thrive in the 21st century as we continue to melt into this multiracial pot?

4. How do we combat those negative images when it comes to our Love?

5. Name that brother who touched you soul deep… Yes showed his love with actions that spoke louder than words?
Ask yourselves and your fellow sisters these questions and discuss the answers. We men want to know what you think.  What you feel.  And don't worry—we will ask similar questions to the brothers too.  Finally, it's important for me to state that although we talk about the decline in positive images of Black love, I still have faith and I still know that it exists.  In closing, I want us all to remember that the majority of black men do indeed love and cherish their reflection —which in reality is YOU.  Our sister… the AFRICAN QUEEN.
Owner/Webmaster; ThyBlackMan
Brotherhood at its best over at; ThyBlackMan.com.