Ex-Con Employment: Little-Known Advice Ex-Cons Should Know For Finding Jobs & Explaining Jail Time…
(ThyBlackMan.com) Every year in America, 600,000 inmates are released from prisons and jails. One of their biggest challenges is finding jobs as ex-cons. With unemployment now hovering at around 9%, it's hard enough to land a position in the U.S., even for those with spotless records and impeccable career credentials. So imagine the difficulty of getting hired if you have a criminal conviction in your past. Unemployment among the ex-inmate population is a staggering 50%, various studies show.
Despite popular thinking, it's not just hardened criminals like murderers or rapists who have trouble re-entering the workforce. More frequently, those seeking a second chance in the employment market after a felony conviction  are non-violent offenders who were incarcerated for drug-related offenses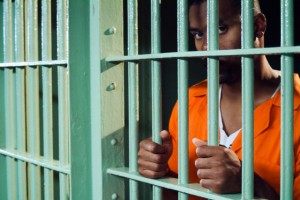 or financial crimes, such as theft, bad-check writing, mishandling of an annuity of life insurance or even embezzlement.
And while minorities and the poor are disproportionately incarcerated in the U.S., people from all socio-economic backgrounds have felony convictions, from Wall Street financiers and white-collar criminals to single moms like Kelley Williams-Bolar, the Ohio woman jailed for sending her kids to a suburban school district.
In fact, according to a 2011 report from The Sentencing Project, 6% of all Americans –- more than 13 million people -– are estimated to have felony convictions, posing a serious threat to their employment opportunities. For all these individuals and more, here is some little-known advice ex-cons should follow when trying to find a job. These suggestions are designed to help former prisoners avoid potential landmines that often turn up in employment applications, in their resumes and during the interview process.
How to Navigate the Employment Application
The main obstacle on a job application is any question that asks about criminal convictions. Some job applications may inquire only about misdemeanors, though such applications are rare. Others may ask about felonies that occurred in a specific time, such as within the past 10 years.
So read the question carefully, and answer it honestly, advises Vivian Nixon, Executive Director of College and Community Fellowship, a New York City-based non-profit that helps women coming out of prison to complete college degrees and move toward economic security. If the question asks: "Have you ever been convicted of a felony?" only indicate "Yes" or check that box if you have already been officially convicted of such a crime.
"A lot of lot of people don't realize that they don't have to answer 'Yes' if they were just arrested, if they've been charged with a felony, or even if they're in the middle of a trial," Nixon says. She adds that anyone convicted of a felony as a youth, who had a youthful adjudication, can also answer "No." With a youthful adjudication, your record is sealed because the felony happened before you were 18 years old. "So part of the issue is educating people about what the (conviction) question really means," Nixon notes.
Fortunately, for those in New York state, there is also Article 23-A, a section of the employment law, which prevents employers from discriminating against job applicants based solely on felony convictions. But not all states have such laws.
Should you offer a written explanation of a conviction on your job application? Absolutely not -– not even if the application requests it, Nixon counsels. "We don't advise that people start to explain a conviction in two short lines on an application," she says, adding that doing so is never in an applicant's best interest.
A better strategy is to be truthful, but discrete at this phase: "Don't ignore the question and don't lie," she recommends. If a job application asks for an explanation of a conviction, "Simply write a comment that says 'I am willing to discuss this at an interview,' and give no further details," Nixon suggests.
How to Refine Your Resume
When submitting a resume for a position, highlight relevant work experience, emphasize education and talents you possess that could benefit the employer and project the most professional image of yourself possible.
"Also when completing applications and/or resumes they should add, in the skills section, things they may have been trained in while incarcerated like landscaping skills, being a barber, cook, etc.," says Kakela Gilbert, a Correctional Probation Senior Officer at the Department of Corrections in Broward County, Florida.
If a former inmate performed such activities while in prison should he or she list that as work experience? No, that's a stretch. "We do not recommend that they put it in the past employment section, because technically it was not employment," says Gilbert.
It also pays to be persistent and to ask for help. Don't get discouraged thinking you're automatically out of the running once you acknowledge having a criminal conviction. Sure, many employers will balk at hiring anyone with a felony. But managers at a surprising number of well-known companies and organizations are known to hire ex-offenders.
How do you know who's hiring in your area? Ask your probation officer, and then target those specific companies. "Here at probation our goal is to help offenders re-enter into society and become productive citizens. Therefore we have partnered with job placement agencies in the community such as WorkForce One and OIC of Broward County, and we refer them there for most employment assistance," Gilbert says. Furthermore, "we recommend that they apply to employers that hire ex-offenders like Marriott hotels, AT&T, Publix and UPS."
How to Get Past Negative Emotions and Avoid the #1 Mistake
Of all the job-hunting blunders that former inmates commit, "The biggest mistake people make is saying too much too soon," says Nixon. Nixon, who previously served three years in prison, made this mistake herself when she first looked for work after being released from prison more than a decade ago.
Instead of putting something like "Incarcerated 2005 to 2009" on your resume, trying listing only the dates, then citing any certifications or degrees earned while imprisoned or post-incarceration. Then be prepared to talk through the issue during an interview.
How to Ace The Job Interview
For ex-prisoners who get a face-to-face meeting with an employer, the single most important way to prepare for the job interview is to practice repeatedly and verbally rehearse how you will answer questions like: "Why were you in jail?"
"We do mock interviews in prison and while they're out in the community to help them get used to explaining why they got in trouble," says Donald Martenz, a Senior U.S. Probation Officer in Newark, New Jersey. "An employer is definitely going to ask that question, and if they're not prepared to address the issue properly, it could cost them a job," says Martenz, whose department in 2007 launched the Ladies First Program, a financial literacy and career training effort for previously incarcerated women.
Experts suggest these interview tips:
1. Do Use Positive Language
Whenever your criminal history is brought up, acknowledge it, but "immediately follow up with something positive," says Gilbert: "For instance, 'I am currently in enrolled in school and have a 3.0 GPA, I mentor at-risk youth, or I volunteer at a soup kitchen three times a week.'"
2. Don't Deny What Happened or Blame Others
Such denials aren't likely to be believed by most employers anyway. Plus, placing blame elsewhere makes you look like you aren't remorseful for what happened or that you haven't taken responsibility for your actions, Nixon says.
3. Don't Get Into Details
"We encourage people to be as vague as possible, without seeming like you're avoiding the question," says Nixon. She adds that while a prospective boss does have the right to know if you have a criminal conviction, "an employer doesn't have the right to know all the gory details."
Instead, state in general terms that a crime occurred in the past, but re-focus the conversation by placing a positive emphasis on the present or your future. Try saying something like: "Yes, I was convicted of a felony 10 years ago and I truly regret that time in my life. Fortunately, I have moved on since then, have earned a degree, and am now focused on my career aspirations."
4. Do Ease Employer Concerns
Employers wary of hiring ex-convicts are often concerned about things like theft, major acts of physical violence, or any potential disruption to workplace safety. You can help set an employer's mind at ease by telling him or her that your conviction was not a violent offense (if that's true), or that your crime was in no way related to the work you will be performing.
This latter point is particularly important because employers can consider a conviction as having more weight if it has a direct relation to the job. For instance, if you were convicted of embezzling money from a bank, then another bank has the right not to hire you. Therefore, if you're applying for a job that has no bearing on your criminal past, you should let an employer know that.
How to Get a Foot in the Door
College students and recent graduates often intern with an employer first, as a way to score a job. The same strategy can work for former inmates. "We advise them to volunteer at places where they would like to work to gain some experience, earn trust and network until they become employed," says Gilbert.
"I was so petrified of the moment I would have to explain my conviction that I would just call employers and practically the first thing out of my mouth was: 'I do have a felony conviction, so if that's a problem, please just let me know now so I won't waste your time or mine.' I would start the conversation with that -– just to get it over with. But I wasn't thinking. I was acting on emotion," Nixon admits. "You're scared, you're embarrassed, and in person, you're thinking that the interviewer is looking at you and judging you. So it seemed much easier to try to explain things over the phone."
In retrospect, Nixon chuckles at herself, realizing how inappropriately she must have come across to potential employers. Little wonder, she adds, that she initially got no job offers. Fortunately, while she was in prison, Nixon actually found her calling –- helping female inmates successfully transition into society, with good jobs and education.
Launched in the year 2000, Nixon's agency, College and Community Fellowship, is an independent organization that each year serves roughly 300 women who are ex-inmates; 158 of those women have earned degrees, ranging from Associate of Arts degrees to PhDs. Nixon has a B.S. in Human Services Administration and is working on a Master's degree in Theology.
Based on her personal and professional experiences, Nixon now urges previously incarcerated people to "let go of the guilt and shame," in order to move on.
An Issue for All Taxpayers
Ultimately, rehabilitating former prisoners and helping them find work isn't just a challenge for ex-inmates and agencies like College and Community Fellowship. It's an issue that affects all U.S. taxpayers. States like New York are trying to find work for ex-prisoners, and other cash-strapped states such as California and Maryland are striving to release prisoners, mainly because it's incredibly expensive to house so many inmates.
According to data from the Pew Center, a day in prison costs nearly $80, while a day on probation costs just $3.50. Consequently, the federal government and America's 50 states spend $69 billion annually to house this nation's 2.3 million prisoners. That means more than one in 100 adults in the U.S. are currently behind bars. Even though 600,000 prisoners are released each year, two-thirds of those individuals are re-arrested within three years, according to the Bureau of Justice statistics.
To drive down the rate of recidivism, one solution is clear: America needs to do a better job of helping former prisoners get jobs and solve their economic plights. Giving solid career advice and financial literacy training to ex-inmates is one step in that direction.
Written By Lynnette Khalfani-Cox
Official website; http://askthemoneycoach.com/