Hottest Trend This Summer – Exotic Watch Dial Treatments like Carbon Fiber from Invicta.
(ThyBlackMan.com) When picking out a watch, there is so much to consider – the style, price, brand, function and purpose. Your watch, or your "timepiece" says a lot about you. It's a visual representation of your personal aesthetic and overall style so you want to get it right.
Fashion bloggers are now setting the trends in fashion, influencing us for the better, from sneakers to hats to the hottest trends in watches. According to fashion experts, this summer, we can expect to see exotic watch dial treatments like carbon fiber.
The manufacturing process of carbon fiber makes the material inherently solid and stylish. Sheets of carbon strands are woven together, giving it its signature look and making it exceptionally durable. Carbon fiber is the latest in watch design. It's light, strong, and eye-catching, adding both superior function and style.
Invicta is leading the way with its collection of exotic watch dial treatments. Whether you want a sophisticated watch to pair with a suit or a bold and brightly colored watch to wear with joggers, there is an Invicta carbon fiber watch for you. To level up your look this summer, check out some of our favorite watches below.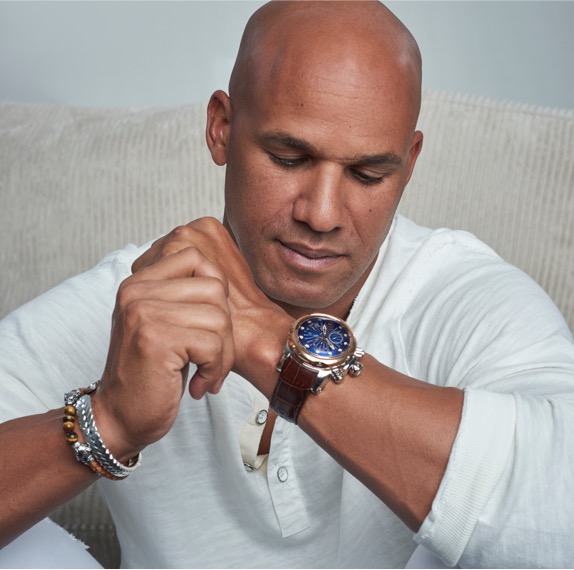 Invicta Pro Diver Quartz Blue Carbon Fiber Dial Stainless Steel Bracelet Watch
This is an everyday watch that will go with everything – taking you from a suit to shorts.
This Pro Diver watch features a stunning blue carbon fiber dial surrounded by a blue rotating bezel. The case and bracelet are stainless steel, and there is gold-tone accenting on the bezel and crown to add that extra bit of elegance. This quartz watch is reliable, durable, and water-resistant up to 200 meters. You will be able to quickly tell time with the luminous hour markers and hands. Plus, there is a date window to help you keep track of those summer days.
Invicta I-Force Quartz Chronograph Carbon Fiber Dial Strap Watch
This is the watch you'd imagine Bruce Wayne wearing on his day off. It's dark, classy, incredibly strong, and always accurate. Whether you are fighting crime, attending a meeting at the bank, or hanging out with friends, this watch will look and feel great. The I-Force has a round stainless-steel case and fixed bezel with Arabic numeral lines in increments of five. The dial is, of course, carbon fiber, and the strap is polyurethan. This timepiece has a lot to offer with a date window and function pushers at 2:00 and 4:00.
Invicta S1 Rally Quartz Chronograph Date Carbon Fiber Accented Silicone Strap Watch
The design of the SI Rally watch really highlights the contrast of black and stainless steel to make this watch pop. It's all in the details, and Invicta got them right with this watch!  The case is made of stainless steel, and the dial is metal with a flame fusion crystal face. Carbon fiber lines the edge of the bezel for an extremely sleek look. There are also twisted stainless steel elements that contribute to the eye-catching look of this timepiece.
Invicta Pro Diver Quartz Date Carbon Fiber Dial Red Bezel Stainless Steel Bracelet Watch
If there is a lot of red in your closet, or you are looking for a subtle splash of color, this Invicta watch with the carbon fiber dial with a red unidirectional rotating bezel will be the perfect addition to your summer wardrobe. This classic yet innovative timepiece has a black carbon fiber dial, boasting style and strength. There are luminous hand and hour markers to keep time, as well as a date window. There is a push/pull crown, and it has a stainless-steel case. This beauty is great for summer fun in the pool or on a boat as it is water-resistant up to 200 meters.
Invicta Bolt Sport Quartz Chronograph Carbon Fiber Dial Silicone Strap Watch
If you prefer a bold statement piece, the Bolt Sport Chronograph Carbon Fiber Dial watch by Invicta will check every box. This watch is full of incredible features and very fashion-forward. The black silicone strap serves as an accent piece to the boldface with gold-tone backing and stainless rope that encircles the carbon fiber dial. There is gold-tone detailing on the face, further accented by the subdials, a date window, and luminous hands. The crown has function pushers, and despite being so stunning, it is still durable – true to Invicta watches. This watch is water-resistant up to 200 meters and has an impressive warranty.
Invicta Pro Diver Quartz Black Carbon Fiber Dian Stainless Steel Bracelet Watch
Steel, gold, and black – the combination offers incredible versatility so that you can pair your watch with everything. The stainless-steel bracelet strap gives a polished look that allows the black and gold-tone face to really shine. The black unidirectional rotating bezel encircles the carbon fiber dial. This watch features luminous hour markers and hands with a push/pull crown. The design of these timepieces has taken the classic quartz style and elevated it with modern materials and treatments. And lastly, as you would expect from a pro diver, this gorgeous watch is water-resistant up to 200 meters.
Sometimes finding articles on the hottest watch trends is easier than finding a place to actually buy the watch. Whether you are shopping for yourself or a gift, you may have found watch shopping to be a challenge. The truth is, many malls and jewelry stores carry the same stuff, and it can be challenging to find the latest styles. Finding exotic dials on Invicta Watches won't be difficult – since you now have a good idea of what you are looking for.
Unique brands and the most extensive collections are often found online. ShopHQ.com, for example, has an array of exotic watch dial treatments like carbon fiber from Invicta. When you purchase from an online retailer, you aren't paying for a fancy shop in a trendy neighborhood, and the savings are passed on to you, the customer.
Be on-trend and on time with one of these Invicta carbon fiber watches. With one of these beauties strapped to your wrist you will make summer 2021 your hottest one yet.
Staff Writer; Brian Moore