While 2020 Democrats Fight A Civil War, The Republicans Are Fixing Health Insurance.
(ThyBlackMan.com) There's a civil war brewing on health care. While many of the 2020 Democratic presidential primary candidates support some version of Medicare for All, others aren't ready to give up on ObamaCare—and Kamala Harris is trying to have her cake and eat it too.
"KamalaCare" would apparently move the country to Medicare for All over the span of 10 years. But it would require the help of private insurers—a surprise, considering Harris supported the elimination of private health insurance during the last Democratic presidential debate.
The plan was met with immediate criticism from so-called "moderate" and radical Democrats alike—either saying it's "unrealistic" or that it doesn't go far enough in socializing the American health care system. The rest of America is just wondering if Democrats can stop arguing long enough to develop an actual plan.
But as the Democratic infighting continues, Americans can agree—our existing health coverage system is broken. ObamaCare has created a disaster, with skyrocketing premiums and declining options that have left patients with few choices. Medicaid has become an unsustainable and astonishingly costly program, and ObamaCare's Medicaid expansion has created a new welfare class of able-bodied adults and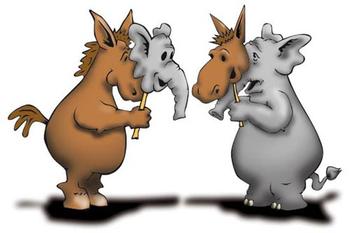 threatened resources for the truly needy. There's no doubt that Medicare for All will only make our current problems much, much worse.
The "solutions" put forward by Democrats have failed us for nearly decade, and it's past time for a change. And for that, voters should look to conservatives.
While the media is feeding on the Democrat frenzy, conservative state leaders and the Trump administration have been taking steps to actually reform health care in America, developing plans to increase coverage for the uninsured, lower costs—while increasing transparency—and finally put patients back in the driver's seat. State legislatures have expanded access to short-term plans, bridging the gap between coverage for patients, and association health plans(AHPs), freeing up businesses' money and allowing owners to grow their businesses while offering their employees health insurance. AHPs alone could benefit up to three million Americans, who may see premiums up to $10,000 lower per year than individual market plans.
The White House took strides to protect the wallets of millions of Americans suffering from chronic conditions by expanding HSA-eligible high deductible health plans and empowered workers with more choices by allowing employer-sponsored health reimbursement accounts to pay premiums for private insurance plans—tax-free.
These aren't debate stage talking points—these are real solutions in action.
The health insurance problems facing our nation are real and immediate. Health insurance premiums have more than doubled since 2013, leaving hard-working Americans priced out of the market and uninsured. These families don't want political banter—they want, and need, solutions that put them back in the driver's seat of their own health care decisions.
Americans take control of every aspect of their lives, comparing costs and making the choice that is best for themselves—why would we give up choice over our health to the government?
While Democrats double down on the same failed policies that created this mess in the first place, conservatives have found a better way to fix our broken health care system, offering innovative and affordable solutions that are proven to expand choice in the health care market and help people without insurance find the coverage they need.
Like any other marketplace, increased choice and competition lowers prices and improves quality. We don't need more "one-size-fits-none" health care insurance. We need a real choice that allows American families and businesses to thrive.
Conservatives rolled up their sleeves, went to work, and provided real solutions. Democrats should stop taking political jabs and start taking notes.
Written by Whitney Munro
Official website; https://twitter.com/whitney_munro