Military Fashion: An Historically Significant Garment Reconstructed by Virgil Abloh.
(ThyBlackMan.com) "Military trends are part of the fashion vernacular now," noted Marc Jacobs, though it is arguably the great Virgil Abloh who has made it a must-have item in the wardrobe of any African American male with sartorial flair. Military fashion has always inspired this visionary designer; his über cool harness (one of the must-have items for fashion forward men these days) was influenced by none other than Michael Jackson, who first wore this unusual garment at the 1993 Superbowl. Of course, Abloh has taken traditional army gear, fragmented them into a million pieces through his particular prism, and reconstructed them into something completely new.
How has Abloh reshaped army greens and fatigues and made them into items that everyone from Kanye to Travis sport with pride?
Reshaping Tradition with a Jacket
One of Abloh's most Instagrammed designs is his military green field jacket, comprising a hidden front button closure, pocket logos, four front flapped pockets, and pink designs on the sleeves. This simple yet eye-catching garment, meant to be worn oversized, of course, is anything but traditional, yet appeals to the familiar love for green camouflage hues. The jacket is almost more akin to a shirt in structure, yet is easily closed or opened in accordance with the weather.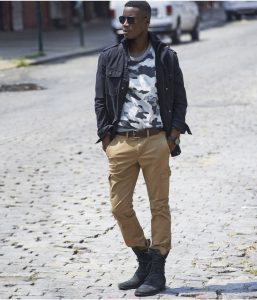 Kanye has really taken to this garment, wearing structured greens as often as bomber style pilot jackets in khaki or camouflage prints. Abloh and West's influence has been immense. Recently, one of the dominant trends seen at the Big 4 Fashion Weeks was that of military, 'extreme utility' gear. From brightly reinvented fatigue to cargo pants, utility vets, and backpacks, military looks are 'in.' They have simply taken on new structures, cuts, and colors.
Military Accessories for the Fashionable Man
The resurgence of army inspired suits, tops, and pants has led to the logical rebirth of military watches. Recently, NanaDC reviews praised today's men's accessories, noting that contemporary military watches must perform well and be stylish enough to complement high-end ensembles. From haute horlogerie to digital watches, military is the way to go if you want to stay on the military wavelength – so bring out your collection of sporty green/khaki watches if you have one tucked away.
Features to watch out for in military watches include green canvas straps (see Rolex or Seiko), compass points, pressure resistance and of course, water resistance. The watch should exude quality on its face, strap, and metallic components. One brand that has managed to get the balance between exquisite movement and rugged looks right, is Audemars Piguet. Hip-hop stalwart Travis Scott is often seen wearing the gorgeous Royal Oak, whose skeletonized openwork dial is just about as rugged as a high-end watch can get.
Designer Boots Make a Statement
To set off your latest Abloh jacket, make sure you have the right military/tactical footwear. You can't go wrong with a pair of black Doc Martens, though if you have a few extra bucks to spare, it's got to be a pair of YEEZYs, now available in very cool colors like blue and wakame. Pair it up a cool Louis Vuitton black backpack and get those heads turning on Wall Street or wherever the money's at from Monday to Friday.
Tupac wore his fatigue jacket with pride in the 1990s and he may have been surprised to learn that today, in 2019, military jackets, cargo pants, and military watches and bags are still an object of desire. There is something rebellious about being a fighter, which is arguably why designers like Abloh have harked to military styles and prints to inspire the fashion loving black man of the new millennium. Even if you do have to done suit and tie to work every day, a pair of army socks, a high-end military inspired watch, or even an army-inspired bag or briefcase will remind you that the 'real you' is a man who is willing to fight hard for his goals, and has already got a plan in action!
Staff Writer; Steve Barker