Tips For Planning a Florida Vacation.
(ThyBlackMan.com) Florida is one of the most popular vacation destinations for people traveling in the United States, and for good reason. The Sunshine State enjoys year-round warm weather and offers visitors a number of different vacation options, from world-class beaches and beautiful natural landscapes to theme parks and historic cities like Saint Augustine and Key West. Florida is home to several major international airports, which makes getting there easy. And car rentals in Florida are simple to book and tend to be less expensive than in other parts of the country.
If you are thinking of planning a Florida vacation, either as a romantic getaway, a destination wedding, a friends weekend, or with your family, here are some tips that can help make the planning process easier.
Consider Booking a Package Deal
You could spend months reading guide books and searching through reviews on sites like Expedia and TripAdvisor, but in many cases the heavy lifting has been done for you. Vacation packages can make planning an unforgettable Florida vacation easier, especially if you are busy. A package deal might also save you some money.
Vacation packages can include everything from airline tickets and taxi or shuttle transportation to and from the airport, to hotel accommodations, resort amenities and meals; car rentals; tickets to theme parks; parking; and nighttime activities like admission to concerts, plays and nightclubs.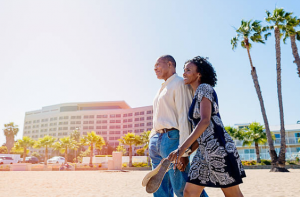 Most often, packages can be customized, allowing you to choose where you want to stay and the number of days you want to be there.
If You Prefer to Plan Your Florida Vacation on Your Own
Sometimes a package deal doesn't offer what you're looking for in terms of flexibility. In those cases, it's better to plan your Florida vacation on your own. Whether you are planning to stay in Florida for a week or two, or just want to add a couple of days of fun onto a business trip, here a few things to consider.
Purchase your flights as early as possible. Florida is a popular destination. Booking airfare well ahead of time can help you get the best deals and flight times.
Make a loose plan for the things you want to do and see each day. Make sure you also include time for relaxing. It's also a good idea to have a few alternate activities in case of rain or unexpected closures. Remember not to "overschedule" your vacation.
Make dining reservations in advance. If you have your heart set on eating at a popular restaurant in a busy city like Orlando, Miami or Tampa, you might want to book a reservation before you leave for your vacation to make sure you get the day and time you want.
Ask about discounts. Many hotels, resorts, car renal agencies, restaurants and theme parks in Florida offer discounts for students, veterans and active military members, seniors, and auto club members.
Take advantage of free shuttle bus transportation offered by many hotels and resorts to nearby attractions, airports and shopping areas.
Have a plan for emergencies. No one thinks about something going wrong while they're on vacation, but things can happen. You should be prepared for what you'll do if you need medical care, if your car breaks down, or even if you find yourself in need of a Florida criminal defense lawyer.
Consider Traveling to Florida at an Off-Peak Time
Prime tourist season in Florida runs from November through April. If your travel plans are flexible, you might want to consider traveling outside of this peak period. By traveling off-season, you'll be able to take advantage of lower hotel rates and dining prices. You will also be able to enjoy popular attractions, like Orlando's Disney World Resort, with much smaller crowds around and less waiting in line for rides.
If you do plan to visit Florida during the winter, remember that booking a vacation in a popular destination like the Florida Keys, which have a limited number of hotel rooms, should be done several months ahead of time.
Always Wear Sunscreen and Drink Plenty of Water
No matter what time of year you visit Florida, you can still get a sunburn. Putting on sunscreen before you leave your hotel room each day is a good idea. You should also pack a bottle of sunscreen to take with you so that you can reapply it throughout the day. Bring bottled water with you wherever you go. Florida weather is almost always warm. It's easy to get dehydrated, especially if you are doing a lot of walking or spending a lot of time in the sun.
Staff Writer; Bobby Shaw