The National Hockey League finally embracing its black history.
(ThyBlackMan.com) There is little doubt that among the four major North American professional sports leagues of the NBA, NHL, NFL, and Major League Baseball that the NHL is the least "black" in terms of its athletes. There are about 20 black players currently on NHL rosters in a sports league that gets much of its talent in predominantly white European countries as well as Canada, though over one-fifth of Canadians are visible minorities and 16 percent of those minorities are black. February is Black History Month not only in the United States but also in Canada.
Carter G. Woodson is known as the father of Black History Month in the United States while Canada's recognition of Black History Month is still relatively recent. In December of 1995, the House of Commons in Canada officially recognized February as Black History Month and in the Senate officially recognized February as Black History Month on March 4, 2008. It now appears that the most popular sports league in Canada, the National Hockey League, is ready to embrace Black History Month.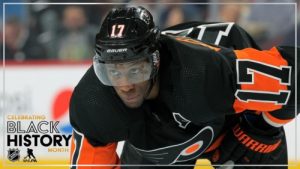 The NHL recently announced that it will celebrate Black History Month for the first time, which will include a traveling mobile museum devoted to the history of minorities in hockey predating Willie O'Ree breaking the color barrier in 1958. O'Ree was finally inducted into the Hockey Hall of Fame last year despite being retired from hockey for over 50 years. It's alarming that a sports pioneer did not get his due for that long.
When reading about the experiences of Black Canadians living in Canada, there seems to be a disconnect about acknowledging black people in Canada and the NHL appears to be trying to generate more comfort for black fans and its black players as part of this recognition of Black History Month. Nashville Predators defenseman P.K. Subban is a certified star in more than one way from his play to his fashion sense to his online reality series. There are talented young black hockey players including Seth Jones, whose father, Popeye, played in the NBA for several seasons. Seth Jones will also be featured as part of the NHL's video specials this month. It will also be important to highlight former black NHL players like longtime goalie Grant Fuhr and Calgary Flames All-Star Jarome Iginla.
There have been questions about getting more black Americans into sports outside of basketball and football and it is interesting that Texas native Seth Jones, son of an NBA player, would become a highly rated young hockey prospect instead of playing sports like basketball or football, where there is more black athlete representation. There is an underlying racism that black Americans face if they decide to play hockey at a young age which was highlighted in the story of P.K. Subban sending video messages of encouragement and confidence to black teenage hockey players in America who were dealing with racist taunts on the ice. While America seems less outwardly hostile to black people than 50 and 60 years ago, it can still be jarring to young black people to receive racist language and actions from strangers. That would certainly be a deterrent to adding black talent to the NHL even if they continue to market to young black Americans and black Canadians in various ways.
Staff Writer; Mark Hines