How Your Office Should Reflect You.
(ThyBlackMan.com) Our workspace says a lot about who we are and how we like to get things done. Like it or not, your office has a subconscious effect on your productivity, efficiency, and the quality of work you're able to complete. Many people fail to realize that if you spend a lot of time in your office, you should take some steps to personalize the workspace so you can be as relaxed as possible.
Personalizing your office can be done in many ways, even adding a little extra flair to your desk in the way of a potted plant or a family picture can help you truly see the space as yours, a place where decisions are made and things are accomplished. However, not all of us have a knack for interior decorating. There's no reason why you shouldn't take a few steps to really make your office reflect who you are as a person though.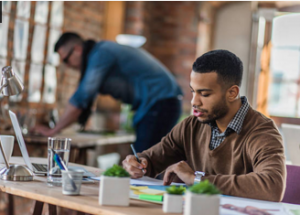 Here are a few simple ways to make your office just a little more personalized:
1. Keep Things Tidy
How hectic you keep your office is a direct reflection on your work ethic and ability to keep things together. While some people have some sort of system that looks disorganized at first glance, it could very well be a well-oiled machine where everything has its place. A truly disorganized office however is going to impact your mental well-being, our bodies don't respond well to our surrounding area being in disarray. You can keep your office healthy and productive with an office cleaning checklist that concerns itself with your trash bins, outstanding documents that need to be filed, as well as a weekly or monthly deep clean of all surfaces and floors. A tidy office is a sign of a tidy mind.
2. Add Some Life
Adding a plant to your office is a great way to add some personal pizzazz to your workspace. With a potted plant, you're able to water it and feed it and watch it grow alongside you. There is, of course, the added benefits of how having a plant will increase the air quality in your office because plants have a knack for soaking up pollutants. You shouldn't go for any plant that's too high-maintenance or finicky though, you don't want to end up spending valuable time on keeping your plant in tip top shape. Bamboo or ivies are a good choice if you're looking to keep things simple but stunning.
3. Show Off Your Artistic Tastes
Adding a large framed picture can help add some flair to your office instead of it just being a boring room with four walls and a ceiling. Some people elect to create a fake window effect by framing a picture of a landscape or ocean view to make it seem like they are getting some work done in their own personal paradise. You aren't limited to landscape photos by any means, though. Show off what kind of art moves you by choosing something that evokes emotion every time you look at it.
4. Parting Words
Choosing to spice up your office might translate into increased satisfaction during your time working or even reduced stress. You're going to be spending a lot of time in your office, it'd be silly not to pick up a few odds and ends to put in there to really claim the space as your own. The sky's the limit really, from framed family photos to knick knacks, plant your flag and let your office be a reflection of who you really are.
Staff Writer; Greg Day