How To Take Your Grilling To A Whole New Level.
(ThyBlackMan.com) Are you new to grilling? If you're not afraid to light a barbecue once in a while, you might want to learn a bit more about grilling your meat and veggies. Barbecues are a neat way of gathering your friends and family, and nothing beats the enjoyment brought by a cozy get-together in a backyard on a Saturday or Sunday morning or afternoon.
Let's look at some things that you might want to consider when shopping for combo grills or if you just want to upgrade your grilling game.
Gas or charcoal
Grills come in several shapes and sizes, but the ways you will provide the fuel that you'll need to get everything cooked properly are two. You can either use a charcoal barbecue or a gas model. Both of these have cons and pros, and we'll try to do our best at detailing them in the paragraphs that follow.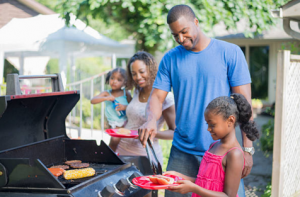 When it comes to pros, charcoal barbeques are inexpensive, they get quite hot, and there's a smoky flavor to the food that you will not forget. Besides, they will offer you the opportunity to play with fire, but this one can be both a pro and a con as you need to be careful. This type of design does have disadvantages, too, mainly that it can be complicated to clean and somewhat challenging to keep at the right temperature.
As for gas barbecues, they have several more parts compared to their charcoal counterparts, which means that more components can be damaged. They might be pricier than other models, but they are also easier to clean. You can use wood chips in the smoker box if the barbecue comes with one.
What can you grill?
It goes without saying that the most basic things you can grill are burgers and steak, but did you know that you can also make pizza and sandwiches? You can make anything from sweet onions wrapped in bacon to vegetable kabobs, grilled cheese, pork chops, tenderloin sandwiches, as well as caramelized onions. It all depends on the type of grill you own.
Several tips that can help you
You need to keep as many of the juices from the meat and veggies as possible, which is why it might not be such a good idea to press down on chicken or burgers as they cook. Also for this purpose, we would recommend limiting the number of flips. In theory, you should only flip an item once over the entirety of the grilling process.
Basting the veggies and meats can be done even when you are grilling. However, you should save this process for last. In this way, the marinade containing the sugars will not go into the meat. Instead, they will cover them and will give you the opportunity to enjoy slightly caramelized foods that haven't been burned.
Grill pans and contact grills are great for people who cannot do their barbecues outdoors. Of course, these might make a bit of mess and smoke, and so you need to manage them as best as possible.
Staff Writer; Doug James