NBA rumors about Kawhi Leonard: Will he play with the Spurs next year?
(ThyBlackMan.com) "We sought outside expertise with the best tendon experts in the world," Buford said.
"It worked beautifully for Tony [Parker], but it hasn't worked the same for Kawhi."
SAN ANTONIO SPURS GENERAL MANAGER RC BUFORD
If losing to the Golden State Warriors 3-1 in the first round playoff series wasn't enough the San Antonio Spurs may have to face a 'rumored' offseason issue without all star small forward Kawhi Leonard.
Drama hovering in San Antonio is strange for their experienced front office. For two decades general manager RC Buford had healthy relationships with star players such as David Robinson, Tim Duncan and Tony Parker but as long as these new Kawhi Leonard rumors persist, the drama will slowly unfold in San Antonio like a homemade messy taco.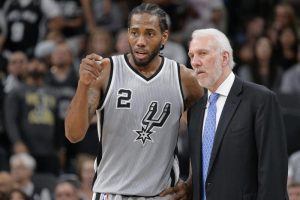 Rumor mills started churning out information immediately following Spurs elimination from the 2018 playoffs. Reporters who asked about Kawhi Leonard were given the cold shoulder and short answers.
Sadly, as I faced my publications deadline, I was left to make my own conclusion of the latest events surrounding Kawhi Leonard and the San Antonio Spurs franchise.
Here is a summary of what I came up with thus far.
Back in September when Kawhi Leonard was seated on the Spurs bench in street clothes we all assumed he was rehabilitating his right quadriceps injury under the watchful eye of the Spurs medical staff.
We paid no mind to his preseason rehabilitation.
So the undermanned Spurs made it through preseason and expected Kawhi Leonard back once NBA season games heat up in October and assume his position as the Spurs leading scorer. Wrong.
Kawhi Leonard missed the first twenty seven games, returned to play in December 2017, appeared in nine games, and subsequently decided to miss the remainder of the season.
San Antonio Spurs respected head coach Greg Popovich brushed off reporters when asked about Kawhi Leonard and even compared Leonard's' injury to point guard teammate Tony Parker saying to reporters, "What's really strange is that Tony Parker has the same injury, but even worse." The smaller Parker tore his left quadriceps in the playoffs and returned to the Spurs in six months.
Rumors persisted after Kawhi Leonard was called to a player only meeting in a San Antonio Spurs locker room that ended in loud voices and arguments which was overheard by reporters covering the game.
More rumors.
NBA fans, old scribes like myself, and other unknown NBA media await something solid in this San Antonio standoff but no victory is in sight. The winner will not emerge without pain and the only sure thing this dilemma is Kawhi Leonard NBA resume.
Drafted 15th in 2011, Kawhi was named as a first team all rookies, two times All Star, twice selected to All NBA first team honors, two time NBA Defensive player award and capping off as a 2014 NBA Finals MVP. With the latter, he joined basketball legends Hakeem Olajuwon and Michael Jordan as the only players to win both NBA Defensive Player of the Year and NBA Finals MVP trophy in the same year.
Kawhi Leonard can return to the San Antonio Spurs next season but it is very unlikely according to NBA sources. This may turn out to be a 200 million dollar problem for Kawhi Leonard who's expected to receive a maximum contract. Both sides of this basketball spectrum can be affected by this issue.
Kawhi Leonard will certainly get max money by resigning with San Antonio but will he decide to lose 50 million dollars by taking his talents elsewhere in the NBA? On the flip side of the pillow, can San Antonio afford to lose a twenty seven year old All Star forward who their fans want to see in a grey and black uniform?
This drama has turned out to be the biggest NBA story in Texas, overshadowing the Houston Rockets bearded star James Harden and their playoff run in 2018.
Spurs dynamic duo, General Manager RC Buford and Head Coach Greg Popovich put out fires before with star center LeMarcus Aldridge earlier this season so it remains to be seen if their experience can pull another 'rabbit out the hat' by signing Kawhi Leonard to a long term contract extension.
What if a small communication issue between Kawhi Leonard and his San Antonio employer has been blown out of proportion all season? Some say Kawhi wants to leave San Antonio? Is it true San Antonio doesn't want Kawhi Leonard anymore? More claim his teammates have deserted him?
San Antonio Spurs front office versus Kawhi Leonard took on a life of its own teaching us all that funny things can happen when a star player is on an injured reserve list all season and without facts we're all subject to educated guesses, overzealous reporting, and the world famous NBA free agent rumor mills.
So believe what you want to believe concerning Kawhi Leonard free agency.
I'm sticking to what Chuck D would say on Public Enemy songs:
"Don't believe the hype."