The Need for Steam Cleaning Your Carpet.
(ThyBlackMan.com) For several years, steam cleaning has been the most popular way of cleaning carpets. If done the right way, steam cleaning can remove dust and dirt, even in the deepest parts of your carpet. Surface oils and other allergens are also removed, especially those coming from pets. As a result, carpets will look as good as new again.
Steam cleaning works by heating the water to a very high temperature until it creates steam. This is then applied directly to the carpet. During the process, dirt is extracted. Detergent may also be mixed with water to help remove stains and dirt.
One of the reasons why you need professional steam cleaners to come over is because they have the right tools for cleaning. The steam cleaner they use heats water up to 200 degrees Celsius. This becomes more effective in removing grease and dirt compared with average steam cleaners. Higher temperature also helps neutralize the adhesive bond in dirt and grease, making them easy to break up and remove.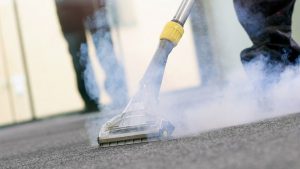 This adhesive attraction in carpet fibers prevents standard vacuums from removing dirt and dust entirely. Therefore, the bond should be dissolved first so it will not stick to the carpet. The best part is that it won't form again unlike when you use a vacuum cleaner.
Maintenance
Another reason why it is best to do professional steam cleaning is because it reduces the need to clean the carpet over and over again. You can have the best canister vacuum for pet hair but there is a good chance the carpet will easily get dirtier over time.
Safety
Cleaning the carpet is not just about improving its aesthetic appeal. It is also about safety and health concerns. When the carpet is clean, bacteria and other illness-causing substances are no longer present in it. With steam cleaning, all those nasty things hidden underneath are immediately killed. The high heat is more than enough to prevent dust mites from surviving. The same can be said for the most common forms of germs and bacteria. The carpet becomes sanitized and safe again for your kids. Just be careful if you are using chemicals since they might cause problems. Check the type of detergent and chemicals you use before steam carpet cleaning. On a more positive note, with steam cleaning, even the small particles left behind by the chemicals used will be removed unlike with vacuum cleaning.
There is no doubt about how effective steam carpet cleaning is. The only problem might be that it could be a bit costly, especially if you ask for the same service several times. You can simply use steam cleaning coupons to reduce the total cost. You can just go online and present these coupons as long as they are used within the period of validity.
Staff Writer; Kelvin Shaw