FDA Crackdown: What Does This Mean for Vaping?
(ThyBlackMan.com) We here at ThyBlackMan have been in favor of e-cigarettes as a quit-smoking method, and have voiced our opinion on the matter on a few occasions. Vaping with the likes of VUSE or Blu e-Cigs allows users to wean themselves off nicotine addiction progressively, making it a much gentler, safer method than stopping all at once, or going 'cold turkey'.
Switching to an e-cig in an attempt to quit will also have an instant impact on a smoker's health and wellbeing. Those who used to regularly smoke cigarettes will quickly notice a decrease in shortness of breath and coughing, and their skin will start looking healthier. Plus, they won't smell like a dirty old ashtray anymore. Physically and socially, switching to e-cigarettes can be a hugely beneficial life decision.
So, it will come as no surprise that the latest news about the US Food and Drug Administration's regulations on e-cigarette products has us a little worried for the industry and for the future of vaping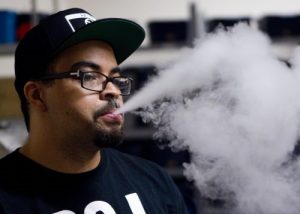 itself. Will the vaping community suffer as a result? Will companies like Blu e-Cigs and NJOY cigarettes be able to carry on?

The ruling, amongst other stipulations, will require all e-cigarette and e-juice manufacturers to submit their products for a premarket review from now on. But there is conflicting information circling the web and we don't really know to this day what products will be affected, or what is going to happen in the long run. We thought we'd take a closer look to find out more.
Understanding the regulations
The FDA bill files all e-cigarette and vaping products and devices under the single, larger umbrella of "tobacco products." This brings some not-so-surprising and clearly beneficial aspects; banning the purchase of vaping products by minors being one of them.
While some products that have been on the market for several years may be able to dodge the bullet in some ways, newcomers such as V2 or Blu e-Cigs will have to comply with stringent rules. These will require them to submit detailed outlines of all their product and e-juice flavors for approval. This process is expected to take up to 1,500 hours to complete and to cost well over $1 million. That's $1 million per product tested, and there will be no guarantee that the FDA will actually approve the products following the costly and lengthy evaluation process.
But the more controversial area of the regulations lies in the fact that the FDA will be controlling products that do not, in fact, contain nicotine — the substance responsible for so many health problems with smokers, and the substance that doesn't feature at all in many e-cigarettes.
What this means for vapers
Little is known just yet about the long-term effects vaping has on the health. Preliminary research, however, points in the direction that e-cigarettes are less dangerous than traditional cigarettes and are, as such, considered a good quit-smoking aid option.
As a reference, tobacco smoke is known to contain a grand total of sixty carcinogenic substances. Although e-cigarette vapors also contain some chemicals, studies show that their level of toxicity ranges from 9 to 450 times lower than cigarette smoke. In fact, the Department of Health in the United Kingdom has deemed them to be 95% less harmful than traditional tobacco cigarettes. When attempting to quit, vapers can pick and choose the amount of nicotine in their e-cigarettes and slowly lower the dosage until they have weaned themselves completely.
What we and many others fear the FDA rules will cause is the emergence of a black market, and a stigmatization of vaping. This will make potential quitters reconsider vaping as a smart option and very likely decrease the percentage of successful quitting attempts worldwide.
What this means for businesses
The FDA regulations will no doubt threaten smaller businesses who will not be able to afford the cost of putting all of their products forward for investigation. The fact that NJOY cigarettes has already filed for bankruptcy in the wake of the new rulings is certainly something to make smaller e-cigarette manufacturers raise the alarm. Few of the small vaping companies like Blu e-Cigs will have the ability to dish out $1 million for each of their products to be inspected by the FDA prior to being put on the market. Bigger players, such as VUSE, will likely be able to absorb the cost of the new rules. Following this, our only guess is that the range of available products will dwindle down to just a few options.
On a more positive note, however, the FDA ruling could potentially lead to a new breed of FDA-approved e-cigarette models in the near future. This would hopefully generate more impartial research into the health benefits of using e-cigarettes from the likes of VUSE, NJOY and blu e-Cigs as a quit-smoking aid. We certainly hope so!
Staff Writer; Ronald Clyburn