Cable Television And It's Effect On Young Black People In America.
(ThyBlackMan.com) It's no secret that we are the biggest consumers in America and we watch TV more than any other group in the country.
Back in the 90s when I was a kid, I was a big fan of The Fox Network because of certain shows like In Living Color and Saturday morning cartoons like X-Men and Spider-Man on Fox Kids.
I was also a fan of positive black shows in the 90s like The Cosby Show, A Different World, Martin, Living Single, In Living Color, Fresh Prince Of Bel-Air, and BET when it was black owned.
But these days I despise networks like BET, Fox, and VH1 because of not only the negative stereotypes of black people cooning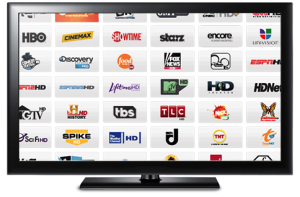 and buck dancing that are not only perpectuated on Empire, Love & Hip-Hop, and many other shows, but mainly the extreme abash racism that is promoted and glorified on Fox News.
Negative images of rappers having tattoos like Lil Wayne and Rick Ross and being a cartoon character living a fantasy makes young black men to try to emulate them.
Reality TV shows like Love & Hip-Hop that show negative images of toxic unhealthy relationships as well as fighting makes young black women wanna go out and fight another young black woman and whoop her ass.
Then mainstream sports psychologically hypnotizes then sucks away so many young black boys who watch it on cable TV to see only themselves as "The Next Cam Newton or Lebron James"
Other negative images that comes from TV are images of black men that are emasculated as in shows like The Prancing Elites and images of famous black men dating or marrying women who don't even look like them and The Media also promotes those negative images to break up The Black Family and make black men and black women disinterested in one another.
The reason why I watch very little cable TV is because of the negative images and stereotypes of black people as well as the buck dancing that is heavily perpectuated by the mainstream media.
The Conclusion: But in the modern day age of technology, new independent black owned and controlled media outlets like KweliTV, Outspoken TV, and Punch TV are changing the narrative by displaying positive images with substance and I want to encourage readers to support independent black owned and controlled media outlets like KweliTV, Outspoken TV, and Punch TV that displays images that are the opposite of the buck dancing that The Media promotes and glorifies.
Staff Writer; Joe Davis
FB Page; http://www.facebook.com/joe.davis.165470