So Black Students Matter, White Students Don't.
(ThyBlackMan.com) White students formed the Illini White Students Union at the University of Illinois at Urbana-Champaign and were called racist. Black students across campuses nationwide form Black Lives Matter groups, holding college presidents hostage to obnoxious demands and they're praised as activists.
The group's Facebook page stated it was formed to discuss issues affecting whites and "organize against the terrorists, we have been facing from Black Lives Matter activists on campus."
What's wrong with that? Many would argue black students have been terrorizing college campuses across the country to get what they want in the name of the Black Lives Matter movement. At the University of Missouri, black students blamed racism on campus on the school's white president. They protested, surrounded President Tim Wolfe's car at homecoming, and about 30 black football players refused to play until Wolfe apologized for his "white privilege" and resigned. Wolfe was forced to resign.
Students at Ithaca College are trying to do the same thing to President Tom Rochon over alleged racist incidents that don't appear racist. During a RA training session conducted two public safety officers, one officer pulled out a black BB gun and said if he saw anyone with one, he'd probably shoot him because the guns look real. The RAs of color were offended by the remark, saying it was racist even though the officer never mentioned a person of a specific race.
Another incident involved a fraternity hosting a "Preps & Crooks" party in October. The fraternity cancelled the party because some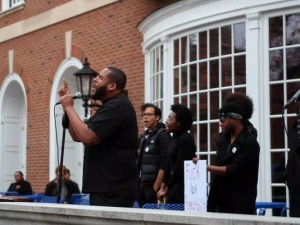 students said it was racist. Students were invited to come dressed in either "Prep" attire with "Polo shirt, button-down, backwards baseball cap, khakis or boat shoes" or "Crooks" in "bandanna, baggy sweats and a t-shirt, snapback, and any 'bling." The party was an expression of free speech not racism. Besides, your everyday robber doesn't dress like a preppy. For example, the DC Police Department Twitter feed describes crime suspects as predominately black males dressed in sweat pants, skull caps, and hoodies. I guess the DC Police Department is racist too.
The Black Lives Matter movement has gone too far on college campuses. Some black college students are actively looking for opportunities to call any action on campus racist in an effort to get white school presidents fired.
"We recognize the right to free speech and we encourage you to exercise that right when you see examples of racism, discrimination or intimidation on our campus, University of Illinois at Urbana-Champaign Interim Chancellor Barbara Wilson said. But the school asked Facebook to remove the page because it was "disturbing."
Students behind the white students union said they felt intimidated by Black Lives Matter protestors' "anti-white rhetoric" on campus. Is free speech only reserved for black students on college campuses? Does white privilege mean white students must suck it up and allow blacks to discriminate against them?
The Washington Post referred to one of the group's Facebook messages as "provocative" because it urged students to post pictures of black protestors so that they would "know who anti-whites are."
We'll be seeing more white students form groups in a backlash to black students getting demands met using tactics of intimidation on college campuses. At Dartmouth College black students took over the library shouting Black Lives Matter, pushing and shoving other students. "The Review editorial reported that: "One female student, the editorial alleges, was pinned against a wall by demonstrators while shouting "filthy white b****!" in her face."
"Several students interviewed by The Dartmouth reported witnessing chants including expletives, such as "F**k your white privilege" and "F**k your comfort." When I was a college students protested in public areas on campus not the library where people studied in quiet. This kind of behavior is in no way acceptable regardless of the color of the protestors.
Black student protestors stormed Princeton University president's office, refusing to leave until their demands were met. One included removing Democrat President Woodrow Wilson's name from all campus buildings because of his "racist legacy." Wilson was a professed racist and former president of Princeton. If black students felt that strongly about Wilson, perhaps they never should have attended Princeton to begin with.
In an effort to appease the black mob, liberal Princeton officials announced that its leaders of the school's residential colleges would change their titles from master of the college to head of the college. The word master reminded black students of slavery some 150 years later. While they're at it Princeton also should change the name of a Master's degree to something more politically palatable to blacks.
About 30 black students occupied Virginia Commonwealth University President Michael Rao's office. They "took over the first floor of the office on Franklin Street about 10 a.m., blocking the entrance and offices on the first floor as well as disrupting daily work," demanding more black professors among other things. About 5% of the schools faculty is black and 15% of the student.
"You can go a whole four years talking to white people, being taught by white people and not having anything to do with black people," sophomore Reyna Smith said. So, VCU controls who students socialize with on the weekends and outside of class time? I doubt it. If black students want a total black experience, perhaps they should attend historically black colleges and universities.
It's fair that students want to ensure their schools hire minorities. But what black students appear to be demanding is for colleges and universities to hire black professors on no other qualification than their race to teach a racist curriculum full of white blame and shame. Of course that's exactly what Yale University President Peter Solovey promised, announcing that Yale would create a center on race and other politically correct things over the next 5 years, costing $50 million.
Democrats' endorsement of the Black Lives Matter movement, particularly President Barack Obama, has fueled a perception on college campuses that blacks lives matter more than white lives. Since when did Americans' right to free speech get limited to the color of a person's skin?
What black students should be concerned about is dismal college graduation rate for black students. Some 50 years after the Civil Rights Act was passed and affirmative action was born in America, 42% of blacks are graduating college compared to 62% of whites.
Written By Crystal Wright
Official website; http://www.conservativeblackchick.com