Three Styles That Flatter Your Curves.
(ThyBlackMan.com) There is always the same debate – do curvy women look better, or skinny ones? Of course, any body shape has its fans, and while supermodels will probably always be tall and thin (simply because they are hired to show off clothes, and most clothes hang better on a skinny body), there will also always be curvier icons like Beyonce and Kim Kardashian. What is really important when it comes to looking good, is to dress in a way that shows off your best features and flatters those you don't love so much!
So, if you have a curvy, womanly figure, then what kind of styles can you use to highlight your best bits? Here are three styles you should consider wearing more.
Dolman Sleeves
Dolman sleeves, which you will also sometimes see referred to as 'batwing' sleeves, are the sleeve style where the sleeve starts at or just above the waist, then tapers down the arm, leaving a sort of 'wing' of fabric under your arm. With a fitted waist, this style looks great on hourglass figures while also concealing heavy upper arms. You can get dolmans in all kinds of styles, from casual tops through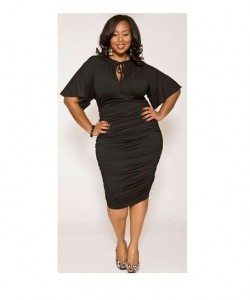 to slinky party dresses, so it is a style you can wear anytime and in any colour or print you like (if you make your own clothes, they are also easy to sew).
Empire Line
A top or dress with an 'empire line' is basically one where the tightest part is just under the bust instead of lower down at the waist. On a lot of curvy bodies, this is the slimmest part, so accentuating it makes a slimmer silhouette while still enhancing the curves of your hips and chest. You can get all kinds of dresses in this style, from casual, summery maxi dresses to cocktail dresses or even bridal gowns, and you can also get long tops with an empire line that look good over leggings, shorts or mini skirts. Another thing to learn from this style is that when you are tempted to put a belt on over a dress or top, you can achieve a more flattering effect by wearing it high to create an empire line than by belting at the waist.
Wraparound
Another style for tops and dresses that looks great on a curvy figure is a wraparound style. You can wear these low cut to show off your cleavage (pop a camisole underneath to wear these lower cut styles for more conservative occasions like work or church!), and by using soft, stretchy jersey fabrics you'll get a look that hugs your curves perfectly and is extremely comfortable to wear. This can be a great daytime look or can be dressed up with heels and accessories to create a sexy party look.
Dressing to suit a curvy body is actually very easy, and the results can look fantastic! Try wearing these three styles and experimenting with different prints and necklines to find a look that is really you!
Staff Writer; Lisa Poole