The Beyonce Effect.
(ThyBlackMan.com) In the aftermath of the fallout between Beyonce's sister Solange and her husband Jay-Z, some have seriously pondered the negative impact, if any, that the now infamous elevator brawl will have on Beyonce's career.  I offer this opinion-None at all!
As Beyonce has proven in the past by putting a positive and usually lucrative spin on negative attention (see "I'm A Survivor" after the lawsuits filed by ousted Destiny's Child members), she has the ability to take lemons and make pop culture lemonade. While "Elevator Smackdown" must have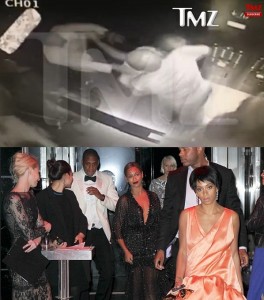 been uncomfortable for her to witness, Beyonce kept the very poise and demeanor that the star's fans have not only cited as one of the reasons that they show fierce loyalty, but also as the behavior that they have come to expect from their Popstar Queen.
While anticipation of Beyonce's and Jay-Z's world domination (easy there illuminati theorists, I'm merely speaking of a concert tour) grows, it has been whispered that the star of "Elevator Whoop Ass" herself, Solange  Hit-A-Hov Knowles, will be the only other act joining the power couple in concert. Though opinions vary on the decision (if true) to have little sis join her on tour, there are certain facts that remain:
1) Beyonce and Solange are and will forever remain sisters related by blood.
2) Beyonce and Jay-Z are legally wed. Period.
The point I present is that although many many people (most of whom Beyonce will never meet or know) offer advice and opinions on how she should handle her sister and handle her husband, ultimately the decision is Beyonce's-and Beyonce's alone.
Some have speculated that this incident is a sign of trouble in the marriage.  My response to that would be-probably; however, I am certain that all marriages have their tests, just not captured on security cameras. The fact that Beyonce and Jay-Z are ridiculously rich and famous very definitely amplifies the situation. As time passes, and the frenzy over the leaked footage subsides, Beyonce will probably continue to wow her loyal fans and even give her critics reason to anticipate her next calculated move.
I would not be too surprised if she, Jay-Z, and Solange found a clever way to capitalize off the unfortunate occurrence, either in the form of a song, or some type of special performance during a concert.  One thing I can say with some degree of certainty is that she will continue to sell out shows, and no incident, especially one in which she was not directly involved, will cause her legions of devoted fans to turn their backs just yet.  As things presently stand, it appears that the Beyonce Effect is as formidable now as it has ever been.
Staff Writer; Erica Van Jackson
Also feel free to view more of this talented work over at; TBFB.