Crimea; The Doo-Doo Chasers.
(ThyBlackMan.com) Now I may not be able to tell you what happened on some cable television program or pontificate of what I think may happen on some contrived artificial reality show, but I am in a position to conjure and offer perspectives on other contrived non-events such as what is frequently called politics. More specifically issues of somewhat basic precepts of democratic centralism and constitutional republics.
 
I have been told by the brain trust in the vicinity of the Beltway that self-determination means nothing anymore, unless it is decided upon by individuals who have no stake on such
self-determination
. I say this because from the President down, seems that the SEO meter is running on a simple phrase that the referendum in Crimea is
illegitimate and illegal
, and even that as such, the United States will not (never ever ever ever even) recognize its
right to self-determination
.
This is not only sociopathic but also inconsistent with the plurality evinced in our own constitution, but even more so in the articles of confederation, the bill of rights as ascribed via the
Treaty of Paris
.  It is as if just by saying such, it makes it a fact or truism.
Since the PEOPLE of Crimea voted over-whelming for their independence from the Ukraine, every nut and bolt politician in the United States has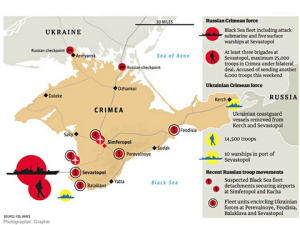 been saying the same thing, which can be summed up by the statement made by Obama's press secretary, Jay Carney, who openly informed the world that the Obama Administration would not recognize the results of the referendum in Crimea calling what Russia did as being "dangerous and destabilizing". Thus by fiat extending the assertion that the population of Crimea has no right to conduct a democratic referendum via the ballot, to decide if it wants to remain with the Ukraine or join Russia.
Fascinating, I mean a
constitutional scholar
(in theory) asserting anti-constitutional beliefs. This when, if it wasn't for Washington, and even the EU helping to overthrow a democratically elected leader of another sovereign nation (Ukraine), we wouldn't even be in this mess. Moreover, what makes even more absurd in the logic offered for this position by the Obama administration, which for the record asserts that the referendum cannot be valid unless the entire population of Ukraine votes and agrees with the decision by Crimean's. A funny and strange position to take when you study past U.S. history with respect to the
South Sudan
(all of Sudan didn't vote) and
Kosovo from Serbia
(no Serbians were allowed to vote via U.S. dictate). 
Then we have the audacity (like hope) to ridicule Putin for what Bill Clinton did in in Serbia, Bush in Iraq, and by Obama in Afghanistan, Libya, and trying to do currently in Syria. Were we this up set in 1967 when Israel committed a real act of war when it took Egypt's Sinai Peninsula, the Syrian Golan Heights and the Jordanian-administered West Bank, or in 1981 when the same nation, Israel took the Golan Heights.  
The simple fact of the matter is that we, America, should mind our own business and tend to the home front where we have real interest and not just the
plutocratic interest
of the ultra-wealthy. From a historical perspective WE KNOW that
the two elephants in the room that no one is really discussing are: (1) the historical US/NATO desire to be able to surround Russia militarily and (2) access to the Artic, in particular since all these international bodies being so concerned with 'global warming", have green lighted more drilling there. These folks have to contain the Russian military because it will be the only way they can try and get all of the natural gas it has as well as access the infinite northern border
Russia
has
with the Arctic.
Again, the United States has no interest that is national in the Ukraine when compared to Russia. Not only do the Russians have a large naval facility in Crimea, the folk there do speak Russian and it was conquered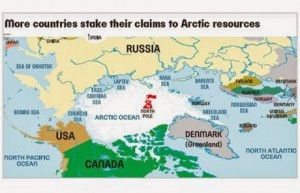 originally by Catherine the Great. Moreover,
Moscow is not about to invade Ukraine and we all know this, it just sounds good to make folk believe that should be a reason for us to be upset. Outside of that, what is our national interest in the Ukraine? Is it to spread democracy like we did in Libya and Somalia? I mean fact is where ever we try to spread democracy all we get is a lot of dead Americans, a destabilized nation, and large
Blackwater
contracts.
We should just stay out of this and admit our only goal is really western control of oil and gas in the region. The Crimean Supreme Council is already on record saying Crimea wants Gazprom to develop the peninsula's oil and natural gas deposits and not any western (US company).
This time we have messed with the wrong cat, a cat from a nation with conviction, who has very strong leadership skills, and even more than this REAL national interest in the region.  This is aint no doo doo chaser, this is Putin.
Staff Writer; Torrance Stephens