Despite Court Order Dr. Kings Daughter Refuses To Sell Her Fathers Possessions For Money.
(ThyBlackMan.com) Bernice King, the daughter of Dr. Martin Luther King Jr, has good reason to be upset with her brothers, Dexter and Martin Luther King III.   A judge recently ruled that Bernice must hand over her father's Nobel Peace Prize and bible as part of a court order.  The family has been haggling over the issue, but Bernice has insisted that this isn't about money.   Instead, she feels that it's about about two misled brothers who want to profit from their father's hard work and sacrifice.
The brothers have a lucrative offer for the bible and the prize, and are making no secret about their plans to sell.  But Bernice told TMZ that she isn't happy about any of this.
"They're very sacred, not just to me, but to a lot of people. I just don't believe, morally, that you sell it," she said. 
This announcement comes right on the heels of a speech given in Chicago by Dr. Cornel West entitled, "Dr. King is not a brand."  During the speech,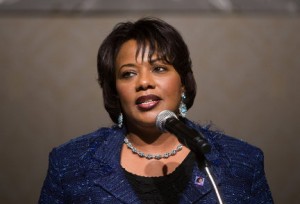 Dr. West claims that even the strongest black leaders have allowed their principles to be bought and sold, and that this threatens the very existence of the black liberation struggle.  He also feels that it is in contrast to Dr. King's legacy to allow money to be the defining factor regarding who gets to keep possession of Dr. King's most prized possessions.
Financial Juneteenth lessons from this story:
1) Money can regularly melt away at your integrity.  A couple of ways to avoid financial temptation is to keep your lifestyle affordable so you're not always stretched, and to draw clear lines that you're not willing to cross for financial gain.  For example, no matter how hungry a poor mother is, most would not consider engaging in prostitution, unless they've never been given clear ethical boundaries on how far they will go to get money.
2) If Dr. King's possessions fall out of the hands of the African American community, this would be nothing short of a complete tragedy.  The Jewish and Muslim communities would never allow their most cherished possessions to fall into the hands of their oppressors.  So, if Dr. King's possessions are sold in such a way that they are not made readily available and also owned by conscientious members of the African American community, this would be a mistake of the worst kind.  This, when added to the corporate white washing that has taken place over the last 30 years, means that Dr. King, as most of us know him, is now the white man's hero.
To truly learn about this extraordinary man, we must start from the root and learn about his legacy on our own.
Staff Writer; Dr. Boyce Watkins 
Dr. Boyce Watkins is the founder of the Your Black World Coalition.  For more information, please visit http://BoyceWatkins.com.