Tavis Smiley vs President Obama; Or Has Tavis Finally Made it to Never-Never Land.
(ThyBlackMan.com) It seems that Tavis Smiley believes that he's so important that the President of the United States is engaged in a covert conspiracy against him.
.
Michael H. Cottman reported in his BlackAmericaWeb.com commentary,
"Tom Joyner's Opinion on Tavis Smiley's White House Accusations,"
that "Smiley told the Associated Press that members of the Obama administration, whom he didn't identify, have successfully convinced sponsors to stop funding Smiley's ventures, including his anti-poverty initiatives."
.
As Cottman alluded to in his commentary, the mere fact that Tavis Smiley failed to identify exactly who in the Obama administration "convinced sponsors" to stop funding his ventures, and exactly which sponsors he's talking about, is particularly telling. That's not like Smiley. If he had any evidence whatsoever to support his allegation he'd be holding one of his PBS "
gibfests
," complete with "
expert analysis
" by the prince of gesticular verbosity, Dr. Cornel West, pointing his finger at the president, and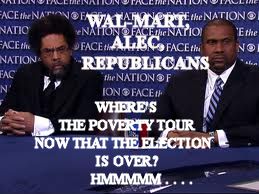 condemning the people in the administration who were involved.
.
.
Because the fact is, even if the corporations involved didn't want to reveal themselves, he could have at least attributed his allegation to "a source who wants to remain anonymous."
.
But why would Tavis's corporate benefactors even want to hide the fact that they were being pressured by Obama? Trying to put pressure on Walmart, Nationwide Insurance, or Exxon/Mobile would not only be extremely dumb on the part of the administration, but it would be a gift from God to Tavis's ALEC connected corporate benefactors. Can you just imagine what Darrell Issa could do with something like that in his House Oversight Kangaroo Committee? He'd turn it into Watergate.
.
So it seems that yet again Tavis Smiley is being deluded by his overblown ego – the same ego that made him assume that Obama had an obligation to come on his "State of the Black Union" show to be anointed by Tavis to run for president; the same ego that made him think that he's been slighted when Obama failed to do so; the same ego that caused him to go all over the media complaining that "For the very first time in my career I haven't been invited to the White House;" and the very same ego that made him think that he had enough clout in the Black community to challenge the first Black president of the United States.
.
The fact is, President Obama hasn't given either Tavis Smiley, or Cornel West, a second thought since he's been in office. He hasn't had to, because he, like just about everyone else in America – at least, with good sense – could see that he didn't have to. Tavis and West were making themselves look like perfect fools on their own accord, so the president didn't have to say, or do a thing. All he had to do was sit back and watch them implode – and that's exactly what he's done.
.
It's a monument to Tavis' lack of foresight that he couldn't see this coming. In October of last year in an open letter to Pacifica Radio I wrote the following:
.
"Tavis and West have become the new Amos & Andy of the Black community, and their trajectory is identical. They not only fail to represent Black interests, but they've become a major liability and embarrassment to many in the community. This will become more readily apparent as they begin to lose the major corporate sponsors currently propping them up – corporations that make it their business to know what's going on in the community. Once these major corporations begin to see that these two have become liabilities rather than assets, they're going to drop them like hot rivets. They probably already see it, but Tavis and West are still of marginal value – at least, until after the election." http://wattree.blogspot.com/2012/10/an-open-letter-to-pacifica-radio.html

.
And later on the Smiley and West website I wrote,
.
"The only thing that Tavis and West have to sell is the Black community, and once they lose that, which they're currently hemorrhaging, they become a liability rather than an asset to their corporate benefactors. At that point, they become irrelevant. http://smileyandwest.ning.com/forum/topics/tavis-smiley-and-cornel-west-going-down-like-the-titanic
.
.
So if I could see this coming over the horizon, why couldn't Tavis Smiley? It's quite simple – because his all consuming and gargantuan ego blinded him to reality.
Staff Writer; Eric L. Wattree