Yes Six Surprising Ways The Health Care Law Will Change Your Life.
(ThyBlackMan.com) Many of the Affordable Health Care Act's sweeping effects have been the main focus of discussion. But, inside of this law's 2,700 pages are many lesser known preventive changes that could affect your life…many in very surprising ways.
Free preventive care
Mammograms, physical exams, colonoscopies, vaccinations — these are among the preventive care services that will be fully covered by insurance companies.
This requirement kicked in for new health insurance plans that began on or after September 2010. Examples of preventive care include screenings for cholesterol, diabetes, HIV and sexually transmitted diseases, which are covered without a co-pay.
For women, this would also cover genetic counseling for the BRCA gene for women at higher risk of breast cancer, mammograms every one or two years for women over age 40 and HPV DNA testing every three years for women. For kids, the services include autism, vision, developmental and lead screenings.
Caloric reality at every major chain restaurants
If you've gone to a few fast food restaurants recently, you may have noticed that more and more of them are listing the calories of their food items. Under the law, this will continue.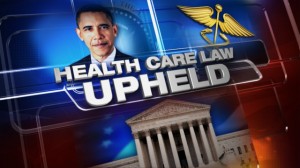 The law requires restaurants with 20 or more locations to list calorie content information for standard menu items on menus and drive-through menus. Other fun facts like fat, saturated fat, cholesterol, sodium, total carbohydrates, sugars, fiber and total protein would have to be made available in writing upon request.
So far, there is mixed evidence about whether calorie postings sway nutritional choices. Also, while the law extends to vending machines, movie theaters were left out.
Find Out Who's Influencing Your Doctor
Is your doctor prescribing you certain drugs because those are the best for your condition or because of a pharmaceutical company's influence?
The Physician Payment Sunshine Act under health care reform requires drug, device or medical supply companies to report payments and incentives they've given physicians and teaching hospitals. This could be speaking fees, consulting fees, meals and travel. So, you can find out which and how much companies pay doctors or health care workers. The companies are obligated to report annually about physician ownership and their financial investments.
More Breastfeeding Rooms & Breaks for New Moms
Many working mothers now get a more appropriate place for expressing breast milk than they had before. Employers must provide "a place, other than a bathroom, that is shielded from view and free from intrusion from co-workers and the public, which may be used by an employee to express breast milk."
Nursing mothers also can take reasonable during the workday to express milk, as frequently as the mother needs. The exception is companies with fewer than 50 employees, which can claim it's an undue hardship.
New Flex Spending Account Restrictions
Flexible spending accounts previously could be used to buy over-the-counter drugs and vitamins. As of 2011, accounts became restricted to prescription drugs, although in some cases a doctor can "prescribe" over-the-counter medicines to make them count. Health care related purchases that still qualify include condoms, contact lens solution, home diagnostic tests and bandages.
But note that in 2013, your contribution amount to these accounts will have an annual limit of $2,500; previously there was no limit.
Wellness Programs at Work
The health care reform law gives companies incentives to start wellness initiatives.
Small business got incentives in 2011, when companies with fewer than 100 employees working at least 25 hours per week became eligible for wellness program grants. The law sets up a $200 million grant program from 2011 to 2015.
As of 2014, participants in wellness programs generally can get discounts or rewards from their employers of up to 30% of the cost of their health care premiums (currently, the maximum discount is 20%). That reward can go up to 50% if the secretaries of Labor, Health and Human Services and the Treasury deem it appropriate.
Written By Whitney Greer