OKC Thunder: 'The Three Amigos'.
(ThyBlackMan.com) Somewhere down in Oklahoma, a band of dream killers are on the loose, led by Coach Scott Brooks, but features "three amigos." These same 'Amigos' have destroyed the Lakers dream of capturing another NBA championship, hereby removing them from contention in the 'Wild Wild West' 2012 playoffs. The victory was finalized with OKC's 106 to LA's 90.
This will be OKC's 2nd straight trip to the Western Conference finals, after losing to eventual Champ Dallas Mavericks in 2011. Lessons are learned through experience in the NBA, and this years OKC Thunder team looks like a teachers pet.
For one,
'The Three Amigos'
consists of Valedictorians in the form of basketball players. Kevin Durant, Russell Westbrook and James Harden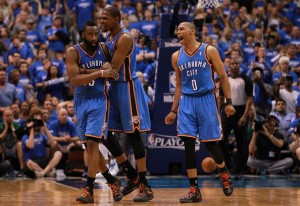 combined for 70 points, 21 rebounds plus 12 assists ending all speculation on Lakers chances to beat OKC.
Even Kobe Bryant tried his best to delay OKC from destiny, scoring 42 points in defeat.
It seems a torch has been passed, or rather stolen by 'The Three Amigos', thus its nickname was born. Together in unison going 8-1 in this years playoffs (second best behind 8-0 San Antonio Spurs) led by Durant 26.7 ppg. Westbrook 24.1 ppg. Harden 17.0 ppg.
OKC out rebounded L.A. 51-35 and obviously out hustled them. The 30-6 margin in fast breaks points means OKC out ran L.A. with its up tempo style of basketball.
'The Three Amigos'
captain is Kevin Durant, a western gunslinger who led the NBA in scoring for get this…three years in a row. After capturing 2012's All Star MVP we should have known something was in the air in OKC. Need proof?
Another 'Amigo', James Harden won his 2012 'Sixth Man of the Year' award, becoming the second youngest person to ever do so. Last but not least, 'Amigo' number three, Russell Westbrook was named to the All NBA second team rounding out their personal accolades.
OKC has an unusual upside to its core players. Durant & Westbrook is only 23 years old, and James Harden is 22. In other words, the future looks bright for the Thunder.
Kevin Durant says "We're back to where we were last year (Conference finals) and now we need to make that next jump."
The proof is in the pudding. OKC was locked in a back and forth game until the 3rd quarter, as Westbrook stole an errant pass, raced down the court with a spectacular finish. He scooped a 15 footer off the glass which ignited the crowd and started a 23-7 run, nailing shut L.A.'s casket.
Next up for OKC Thunder will be top seeded San Antonio Spurs, putting 'The Three Amigos' against veterans Tim Duncan, Tony Parker and Manu Ginobili for the Western Conference Finals.
What else would you expect in walking distance of the OK Corral? It's the Wild Wild West.
Staff Writer; Deigo Mack
For more info on this talented young man feel free to check out;
Mad Mack Smag
.