Kobe Bryant Files: 'The Superman Edition'.
(ThyBlackMan.com) The Kobe Bryant legacy continues this spring as the perennial All Star and part time Superhero leads his 3rd seeded Lakers into the 2012 NBA playoffs against the scrappy Denver Nuggets – a younger, hungrier team who's looking to thrash Kobe Bryant and  hopefully send him into playoff oblivion – once and for all.
Slim chance.  The final score displayed Lakers 103 to Denver Nuggets 88 in game one of the first round playoffs with Bryant leading all scorers with 31 points. No surprise considering Lakers playoff history with captain Kobe Bryant at the helm. The numbers speak for themselves. Five NBA titles, two time NBA finals MVP, fourteen All Star game appearances including four All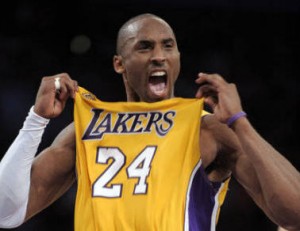 Star MVP's and overall 25.4 ppg. Career playoff average. Few can match his track record. Only one shooting guard named Michael Jordan precedes him on the list in total playoff points. History may one day support my latest theory.
"Stopping Kobe Bryant in the playoffs is on par with stopping a 'robbery in progress – yeah it happens, but rarely". In fact, a couple of 'rare things' happened this season. For starters, Kobe Bryant was the third best selling jersey in the NBA behind younger players Derrick Rose and Jeremy Lin. Who could've predicted that one? Not me. Somehow the Western gunslinger slid under the radar due to pre season injuries, but statistically speaking, Kobe Bryant was in rare form all season. He averaged 27.9 points per game narrowly missing another scoring title by missing 7 games due to a minor shin injury.
Many relate his resurgence if you will to his Top secret, NBA approved, Unlawful in the US but LEGAL IN GERMANY, and experimental medical procedure called Regenokine.  No, I'm serious. It's a brainchild of Dr. Peter Wehling of Dusseldorf Germany, who's even treated other high profile American athletes, such as Alex Rodriguez and Tracy McGrady. The unorthodox procedure involved extracting blood from Kobe and spinning it in a centrifuge, somehow making a protein filled healing serum, which is then re-injected back into the 'Kobester '. 
Truthfully called Molecular Orthopedics or Biologic Medicine, has been sparking medical debates between US doctors and doctors abroad over 'successful results' of the medical procedure. Dividing the Medical profession is one thing, winning another NBA title is another but both fields may very well look to Kobe Bryant as the 'prototype'. No lie, his numbers speak for themselves.
After three knee operations since 2003, at age thirty three in a sixty six game season, good ole No. 24 still finds a way to master his craft. It could be the numbers. Or maybe he is Superman? Dressed as Kobe Bryant in a Lakers uniform. Be thankful we all get to witness such a phenomenal talent with super human highlights.  
Staff Writer; Deigo Mack
For more info on this talented young man feel free to check out; Mad Mack Smag.