Alvin Ailey American Dance Theater – Houston, TX.
(ThyBlackMan.com)
Alvin Ailey American Dance Theater,
Led by Robert Battle in His Inaugural Season as Artistic Director,
Returns to Houston March 2-4,
Presented by Society for the Performing Arts

Programs to include Home by Hip-Hop Choreographer Rennie Harris;
Paul Taylor's Arden Court; Ohad Naharin's Minus 16;
Robert Battle's Takademe, The Hunt and In/Side;
and Alvin Ailey's Signature Masterpiece Revelations!
Led by Robert Battle in his inaugural season as Artistic Director, Alvin Ailey American Dance Theater will return to Houston for three performances — Friday and Saturday, March 2 & 3 at8 p.m., and Sunday, March 4, at2 p.m. in Jones Hall, presented by Society for the Performing Arts.
The program for Friday and Sunday will begin with Paul Taylor's Arden Court, featuring a baroque score by William Boyce and technically challenging dancing with striking duets, solos and a men's sextet that showcases the dancers' skill and musicality. Next will be three works  by newly appointed artistic director, Robert Battle:  Takademe, a savvy deconstruction and abstraction of the tightly woven rhythms of Indian Kathak dance containing humor, fast-paced movements and propulsive jumps, set to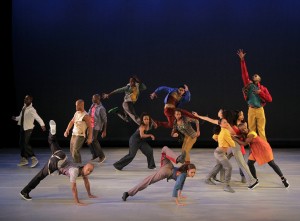 Sheila Chandra's syncopated vocal score; The Hunt, an athletic work for six men, revealing the predatory side of human nature and the primitive thrill of the hunt and set to a thundering percussion soundtrack by Les Tambours du Bronx; and In/Side, a bold and physical solo set to Nina Simone singing "Wild is the Wind." Concluding the evening will be Ailey's beloved masterpiece Revelations, an American classic acclaimed as a must-see for all, uses African-American spirituals, song-sermons, gospel songs and holy blues and explores the places of deepest grief and holiest joy in the soul.
Saturday night's program will begin with Home by hip-hop choreographer Rennie Harris, set to a soul-lifting score of gospel house music. The work is inspired by stories submitted to the "Fight HIV Your Way" contest of people living with or affected by HIV, an initiative of Bristol-Myers Squibb. Following is Minus 16, by the renowned American-Israeli choreographer Ohad Naharin – a work unlike any other in the Ailey repertory in the way it challenges the dancers to improvise and invite audience members to join them onstage. Using Naharin's acclaimed "Gaga" method, Minus 16 features a delightfully eclectic score ranging from Dean Martin to cha-cha, from techno-pop to traditional Israeli music. The evening will also conclude with Ailey's Revelations.
"This is the beginning of a new adventure—for the company, for me and for our audiences around the world," stated Robert Battle, who became Artistic Director onJuly 1, 2011.  Amplifying his plans for the Company, Mr. Battle emphasized, "We are going to reach back and try to touch some of the vital sources of Alvin Ailey's creativity, but also stretch forward into new possibilities that develop his legacy. For the millions of people who love Alvin Ailey's work and have been inspired by the great achievements of Judith Jamison and our unsurpassed dancers, I hope this season will be just what the company has always delivered: a revelation."
Alvin Ailey American Dance Theater, recognized by U.S. Congressional resolution as a vital American "Cultural Ambassador to the World," grew from a now-fabled March 1958 performance inNew Yorkthat changed forever the perception of American dance. Founded by Alvin Ailey, and guided by Judith Jamison beginning in 1989, the Company is now led byBattle, whom Judith Jamison chose to succeed her. The Company has performed for an estimated 23 million people in 71 countries on 6 continents, promoting the uniqueness of the African-American cultural experience and the preservation and enrichment of the American modern dance tradition.
The Ailey organization also includes Ailey II (1974), a second performing company of emerging young dancers and innovative choreographers; The Ailey School (1969), one of the most extensive dance training programs in the world; Ailey Arts in Education & Community Programs, which brings dance into the classrooms, communities and lives of people of all ages; and The Ailey Extension (2005), a program offering dance and fitness classes to the general public, which began with the opening of Ailey's permanent home—the largest building dedicated to dance in New York City, the dance capital of the world—named The Joan Weill Center for Dance, at 55th Street at 9th Avenue in New York City.
Part of SPA's Tudor Family Dance Series, the performances of Alvin Ailey American Dance Theater are generously sponsored by Reliant Energy, Citi, KPMG, the National Endowment for the Arts, BMC Software, United Airlines and H-E-B.
Ticket prices range from $35-$70 and can be purchased online at www.spahouston.org, by phone at 713-227-4772 or at the courtyard level ticket office at Jones Hall located at 615
Louisiana St. Hours of operation:9 a.m. – 6 p.m.Monday – Friday, and10 a.m. – 5 p.m.on Saturday. For groups of 15 or more, call 713-632-8113.
About Society for the Performing Arts
Founded in 1966, Society for the Performing Arts (SPA) is the largest independent non-profit presenting organization in the Southwest. Since its inception, SPA has sponsored more than 1,000 performances of the world's finest music, dance and theater events, in adherence to the belief that the arts are fundamental to the overall enrichment and quality of life within the community. In addition to presenting artists, SPA seeks to provide a variety of learning experiences for adults and children through master classes, lectures and special student performances, as well as build relationships between the performing arts and other interests within the greaterHoustonarea and throughout the state of Texas.