Black Women, The Great Hair Debate…
(ThyBlackMan.com) My sister and I recently sat down to watch a show that we enjoy quite often called Millionaire Matchmaker.  The host of the show was setting up a session for a rich and distinguished black man and was in the process of considering black women who she thought would be of interest to him. 
One stood out from the rest.  She was tall, medium brown–and simply beautiful.  Her hair was in its natural state and styled in a neat mini-Afro.  The host asked her, "You have a beautiful face, but could you possibly style your hair something like Tyra Banks?"
The girl eagerly nodded, and the next day, when she was set to meet the millionaire, her hair had been straightened and she had added a noticeable weave. 
After changing who she was, though, the millionaire didn't choose her as his date.
This set off a string of questions in my mind.  Are white people really not comfortable looking at a black woman with her hair unprocessed?  Are black women who don't process their hair at the bottom of the dating barrel than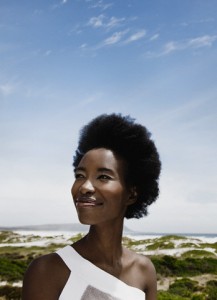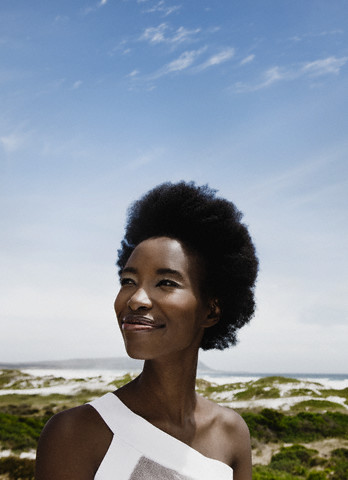 their processed and weaved counterparts?   Are black men more attracted to black women with perms and weaves?  Are black women who wear their hair different from the social norm just not attractive enough?
I raise these questions partly because, every time I read a blog, a young woman is being highlighted who wears her hair in its natural state–and she gets a tremendous amount of negative feedback from readers who post their views in the blog's comment section.  While some consider her brave, others plead that she straighten or weave her hair.  Case in point, Raven Simon:  She has recently been wearing her beautiful natural hair in a short crop.  Many readers are uncomfortable looking at her and ask her to do something about it. 
What's even more disparaging, some black men were even suggesting that Raven sport her weave because they didn't like her hair short.  They were not taking into consideration the possibility that she was growing her hair out and that it would take time for it to grow long.  
It's as if the world cannot accept a black woman who chooses to wear her hair in its God-given state. 
I myself have natural hair, but I cannot tell you how many times, going on job interviews, I make sure to blow dry the kinks out of it and consciously wear it in a pulled-back bun, making it as neat as possible so that I don't offend a potential employer.  I know of some black women who don't wear braids, although they are in a neat style, to interviews for fear that they will look too ethnic.  Black women, whether their hair is processed or not, have to constantly keep in mind how to wear their hair to make a good impression on everyone around them, even each other.  Straight hair versus kinky hair is still a subject of debate among black women.  This was recently highlighted on the Dr. Drew show, when Dr. Drew had black women discussing the topic of hair.  In that episode, he also let black men weigh in on how they viewed black women with processed versus unprocessed hair.  I wish such discussions were conducted in a more constructive way, because they don't really answer any questions regarding how we truly feel about one another and our hair.
When it comes down to it, it's all about acceptance.  Black women must accept themselves no matter how they choose to wear their hair.  When we feel comfortable in our own skin, then we can make an impact on the world–forcing it to accept us as we are.  Just last week, I went on a job interview and decided to wear my hair in a "twist out."  The young Caucasian guy who interviewed me said that he liked my hair.  (I guess I can also attribute the compliment to the confidence I was exuding with my hairstyle.) I accepted myself, forcing others to accept me as I am.
I ask black men who act as if it's a crime for a black woman to wear her hair unprocessed, What is your problem?  Don't you know the same hair that grows out of our heads is growing out of yours?  It's the hair that grew out of your mother's and grandmother's heads, too.  If we choose to not add a relaxing agent to our hair, you should accept us for the choices that we make. 
I want to thank the black men who don't mind if a black woman wears her hair unprocessed, and find it sexy that she chooses to rock her natural tresses.  Thank you very much.  But for the others–if we black women can accept you black men with your natural hair, then you can accept us.  I mean, we'd rather have you natural than looking fried, dyed, and laid to the side in the manner of our 1960s grandfathers, or decked out in the Jerri curls you wore in the early '80s (some West Coast brothers rocked it well into the '90s).  And as a teenager growing up in the '90s, I would have preferred to see you natural than with those sickening S-curl waves that were oh-so-popular.
Staff Writer; Yolanda Spivey
Also connect with this sister via Facebook; Y. Spivey.