Jay Z N***a's in Paris: A Pop Culture Phenomenon…
(ThyBlackMan.com) I remember once, Jay Z quoted in an essay to Rolling Stone, that when you hear a great song, you can think about when you first heard it, the sounds, smells, emotions involved etc.  That a great song doesn't try to be anything, it just is. We've all seen our fair shares of number ones and one hit wonders, but when a song moves its way into pop culture, then you know that you have heard something special.
 A great song has a bold statement, great production, melody, words, and mostly the intuition that you can feel what that artist is trying to do. From Al Green's Love & Happiness, to Naughty by Nature's O.P.P, those songs consisted of all of the above, and they are still a staple in pop culture today. Jay Z & Kanye West is not only one of raps more successful rap acts, but pop music's as well.
 They have 33 top 10's and eight total number ones between them. But the two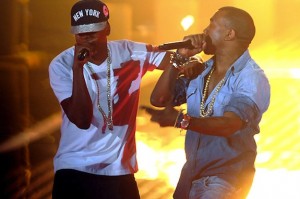 never had a song that had a mixture of crossover appeal in terms of popularity from all over, and also make its way into cultural references   the way N***as in Paris has done for them this year. We haven't seen a song this big in terms of universal popularity since Crank Dat Soulja Boy by Soulja Boy & Single Ladies by Beyonce. When those songs released, everyone was making viral videos imitating the videos dance steps.
 Right now, a video of a clearly ecstatic man on a New York subway is happily and joyfully singing "In Paris" verbatim.  Now it's viral on YouTube and popular on many music blogs. The excitement and pleasure he shows in the video, is exactly what N***a's in Paris tried to do. From the words of Will Ferrell from the movie Blades of Glory that was sampled twice in the song, it "Gets the people going!"
 So far the song has peaked at number five as of recent on the billboard pop charts that was posted this week, but you can't even let the charts determine the popularity of this record. Besides what I've already mentioned above on the elements of a hit song, Paris has much more than feelings and great production. It has a chorus in which we're still debating the definition of, (cray or kray? We still don't know). It has references of pop culture (Michael Jackson, Michael Jordan, Mike Tyson, Mary Kate & Ashley, Prince William) and fantastic lyrics that we will always remember.
You can't even forget that the Blades of Glory movie sample which again featured Will Ferrell has also found its way into tweets, Facebook statuses, magazines, and blogs. Now it is a part of everyday language. "Ball so hard motherf****r's wanna fine me", Jay Z's opening line of the song, is also quoted very often and it's probably Jay Z's most quoted bar since his" B***h I said I was amazing. Not that I'm a Mason", line from Rick Ross Free Mason track.
At the Watch The Throne concerts, the crowd attests it's pleasure for the song by asking for encores at different venues. It's been reported that at some concerts it's been played six, eight, and even thirteen times. I don't think that's ever happened in music, ever. That's a major reason why I was surprised that it didn't get nominated for a Grammy. But good thing many blogs showed major love by generously placing the song on its top songs of the year list. This song was more than a hit single, it was a phenomenon. Something we will all remember and sing when we get older (well, maybe not the above 30 crowd). We will remember the night of the Watch The Throne release date, the first time we heard it, what it reminds us of, etc. N***as in Paris, has proved to be pop culture's biggest song from the year of 2011.
Staff Writer; Brad Washington