Michael Jackson daughter Paris Jackson Film project…
(ThyBlackMan.com) Before his untimely passing, Michael Jackson notoriously dressed his children like they were always headed to a costume ball. It was his way of shielding his three kids from the press and various pariahs of the world. However, with the King of Pop gone Prince Michael, Paris, and Blanket have all the freedom in the world to engage the public.
They've done a remarkable job of making up for time lost due to virtual seclusion, appearing on Oprah's talk show, The X-Factor, and in home videos with their cousins on YouTube.
As a result of their publicity blitz, we now know a lot more about Michael Jackson kids than we ever did before — including which Jackson child is most likely to follow in his entertainer footsteps. According to Michael Jackson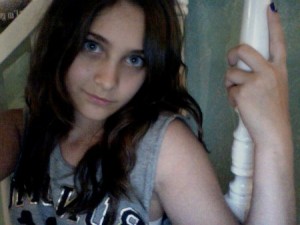 niece, Genevieve Jackson, Prince and Blanket want to go into filmmaking while Paris wants to focus on acting. For the middle sibling, being an entertainer is her way of giving back.
Paris Jackson recently tweeted: "I Wanna Leave My Footprints On The Sands Of Time. When I Leave This World I'll Leave No Regrets. I'll Leave Something For Them Not To Forget."
The sentiment could give someone a cavity, but those responsible for her ought to be having a headache as some worry that her first film role is setting the wrong precedent for her career. Paris Jackson will reportedly star in Lundon's Bridge and the Three Keys, a mixed live-action and animation movie.
The plot focuses on a young girl kidnapped from her rightful place on land by an evil Jellyfish Queen of the Ocean. As a result, she becomes the key to finally ending the battle between creatures of the land and sea. Paris will play the "human character" being brainwashed by the Jellyfish Queen. Yeah, I'm confused, too, but I used to enjoy Michael Jackson battling Joe Pesci in Moonwalker.
Finish story over at; TheGrio – Michael Jackson daughter Paris Jackson, etc.

Also follow TheGrio on Twitter; http://Twitter.com/TheGrio.
and Facebook; http://www.facebook.com/theGrio.