Rihanna: Pop Superstar or Overrated?
(ThyBlackMan.com) Billboard released their weekly charts this past Thursday, and the familiar face of pop superstar Rihanna is back at it again, doing what she has been doing consistently in her career: having a number one song. Her newest single, "We found love" is her ninth number one as a featured artist and 11th overall. She's only 23, and she could have 20 number ones by the time she's 28, which is mind blowing. BUT with all that success, there are many who want to cut her success party. Many object to her success by saying she's just another good looking artist with marginal talent. I'll take both sides of the argument, stating both cases, and see whether or not she is the star she is as advertised to be, or just an illusion.
Rihanna is….a Star
In the age of singles making money and albums are prayers for Gold certifications, many artists today are struggling to not only achieve a hit, but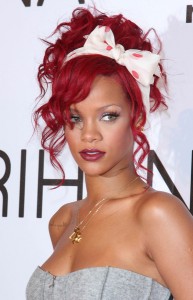 stay on that course and be consistent with it. Rihanna is the most effective hit making female artist since Mariah Carey in the prime of her career. As stated in the prior paragraph, Rihanna has appeared on 11 number one records on the pop charts, nine of which are her as a featured artist. Her sex appeal and her fan base are nearly unparalleled. She's released arguably the best pop song of the 2000's (Umbrella) and has made impact with her female fans on records (Hate That I Love You, Man Down, Unfaithful) and has made any man or non Rihanna fan to be in danger if Ill will  was spoken against the her. Her last album featured three number one hits including the popular "What's My Name?" This featured superstar entertainer Drake. With the help of "We Found Love" Rihanna became the fastest to reach 20 Top Tens on the Billboard Hot 100. Each of her albums besides her first album, are platinum, and she has sold more than 20 million albums worldwide and 60 million singles. It's literally impossible to deny and overlook the accomplishments she has achieved. With record numbers, appeal, and her voice authored on numerous hits, it's hard to not say or think that she is the biggest star in America, or maybe the world.
Rihanna is….Overrated
Okay, yes Rihanna is a star in every right and no one is denying that, but sometimes it's hard to give credit to people who aren't the most talented, and don't have a hand in writing or producing their own music. And if you aren't going to write and produce, please be supremely talented at your singing profession. Beyonce doesn't write or produce (they slide writing/producing credits here and there) but she can sing very well. Whitney Houston does not either, but she is a as gifted a singer (in her prime) as it comes. For Rihanna, she takes part in no writing/composition/arrangement whatsoever, and cannot sing very well. On her first two albums (Music Of The Sun, A Girl Like Me) there were a few hits, but obviously Jay-Z wasn't satisfied with the direction of his protégé's career, and decided to make a change: hire better writers (The-Dream, Tricky Stewart) Producers (Stewart again, Timbaland Ne-Yo, Will-i-am, Chuck Harmony) and along with her frequent collaborators they began to progress to a more pop sounding sound. Together, soon all contributed to her numerous number ones, awards, and album certifications. It has been evident the change from her first two albums, to now, that the talent added around her has helped make her into a star.  She could be considered overrated by just being a hit-making puppet for her Def-Jam executives, while her songwriters and producers do the bulk of the work. Like a Milli Vanilli who actually sings, but the real stars are behind the scenes. To many, Rihanna is just someone with a pretty face, cute waist, and marketed extremely well and can appeal.
In conclusion:
Not everyone is born talented writing or singing wise, and obviously Rihanna is one of them. Rihanna voice is better than most in America, but in the music business she's in the low quota of talented artists. Not knocking her whatsoever for all her achievements. She's going down with the greats no doubt. But, many greats were also the best talent wise in their profession and weren't handed their hits such as Rihanna. And therefore, she is Overrated.
Staff Writer; Brad Washington