Beyonce The Copycat queen…
(ThyBlackMan.com) They say imitation is the highest form of flattery, but has Beyoncé gone too far? The pop diva is being accused of stealing choreography in the new music video for her single "Countdown" — and the troubling thing is, this isn't the first time Beyoncé's been accused of being a copycat.
Beyoncé's been known to borrow heavily from other artists and communities, but her most recent album, 4, has been particularly plagued by rumors of plagiarism.
First there was her performance at the 2011 Billboard Awards. Beyoncé's phenomenal performance of her lead single "Who Run the World (Girls)"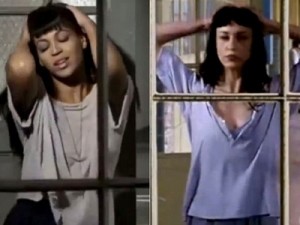 featured the pop diva interacting with black and white images on a video screen behind her. However days after her performance savvy pop culture experts pointed out her performance was less than original — Italian singer/actress Lorella Cuccarini utilized the same imagery and gave a similar performance a year earlier.
Then there was the actual music video for the "Who Run the World (Girls)." It's believed that the imagery used (specifically a shot of Beyoncé with two large chained Hyenas) copied that of South African photographer Pieter Hugo.
Now, Belgian choreographer Anne Teresa De Keersmaeker is claiming that Beyoncé blatantly ripped off choreography from two of her works, "Rosa danst Rosas" and "Achterland."
"I'm not mad, but this is plagiarism. This is stealing," Keersmaeker told a Belgian radio station. "What's rude about it is that they don't even bother about hiding it. They seem to think they could do it because it's a famous work."
Finish story over at; TheGrio – Beyonce, etc.
Also follow TheGrio on Twitter; http://Twitter.com/TheGrio.
and Facebook; http://www.facebook.com/theGrio.