Brad Washington; The Notorious B.I.G has done more for rap than you think…
(ThyBlackMan.com) The Notorious B.I.G is often hailed as one of the best rappers and songwriters in the history of rap. While many will say "well he only has 2 albums, so you can't crown him the best" well yes we can. He was a master flow, told stories better than any MC, and made clever punchlines that made you jaw drop. He was a rare MC, and while he is regarded for his laidback rhymes and story telling narratives, we must thank The Notorious B.I.G. (and Diddy) for mixing the genre with pop sounding, radio friendly songs and Gangsta rap, to create a mainstream sound that is widely used in Hip-Hop today.  Now-a-days if a record isn't marketable then it's not getting any play.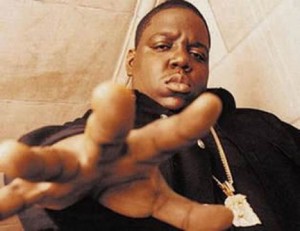 Thanks to Big, songs like "John" by Lil' Wayne and "BMF" by Rick Ross don't get turned away by radio DJ's.
Back in the 1980's to pre 1996, whatever a rapper was marketed as was what was goin to the radio. If you were pop, then you were pop. You rhymed in circles, like a Nas (Illmatic era), KRS-One or Rakim, then you rhymed in circles (and that's in a good way, like showing your rapping talent instead of rapping materialistic things). If you popped guns and sold drugs, then that what was going on the air and sold in stores. Some rappers did get the acclaim, but it didn't turn up in record sales. A lot of rap artists found themselves at the bottom of the Billboard Top 100 album chart. Not bad for back then, but it would have been nice to hang up a gold plaque.
Rapper Nas dropped critically praised Illmatic in 1994, a few months before Big released Ready to Die. Both featured classic records and both are considered legendary. But what separated Big from Nas were the radio friendly tracks. Not the "I can't believe it made it to pop radio" music (see O.P.P.) But the Juicy, Big Poppa, and One More Chance's, Those were the records that brought B.I.G. the national attention, and his album cuts like "Warning" "Gimmie the Loot" and Everyday Struggle" is what won the streets. The transaction of pop/gangsta rap was a first. And all though it isn't quite the movement he started on his second album, it was the beginning of Puff marketing his rap star for both the streets and the radio, which didn't happen before.
Nas nearly had the transition with his second album It was Written, but he was deemed a sell-out, partly because Illmatic had no radio playable singles necessarily. Nas would be dogged for selling out all the way until he released his back-to-my-roots album: Stillmatic.
I remember when 50 Cent dropped Get Rich or Die Trying in February 2003, to commercial and critical acclaim. He became hip hop's biggest star since Eminem, a few years prior. He had all the tools to be a prominent gangsta rapper; Charisma, criminal and drug dealing past, and not to mention getting shot (at?) 9 times. He had a mix of hardcore records for the streets, and songs for the radio, Wanksta was for the streets, but it's radio-sounding record was what got it to number 13 on the pop charts. 50 became perhaps everyone's favorite gangsta since the days of 2Pac. I didn't realize then, that it was Biggie who started it all and led the charge. Mixing hard and soft records has become a notable trend in hip hop for years now. It seems that we all forget the two men who are responsible for this trend that seems to dominate rap.
Puff Daddy (Diddy, whatever) knew his protégé, The Notorious B.I.G, wasn't the most marketable rapper he had on his roster. But what he did have was the talent and stamina to produce classic recordings so that he had to be heard. For his next and final album, Puff wanted gangsta and pop to converge together even more than it did on Ready to Die. Create a new sound in hip hop. Sample heavy. Radio friendly beats with Big's stories of women and street tales of drugs and guns laying on the tracks. Gone was the dark sound of Ready to Die that was the majority of the songs. In turn, many of Big's best songs are considered from Life after Death. He even had two number one singles back to back in Hypnotized and Mo' Money, Mo' Problems. Each record on that joint could have gone to radio. Even "Ten Crack Commandments" My favorite cut off that album was "Kick in the Door" It simplified everything Diddy was trying to do. Sample heavy, catchy, deemed for the radio, and along the way Big put on some of his best performances on wax, and not once losing street cred because it still had street content.  It's amazing how that album sold ten million copies. Mainly because we noticed the new sound and change. Not because we wanted to pay respect to the dead rapper.
Because of this stylistic change in gangsta rap at the time, many record companies have followed suit in this, your favorite rappers at the time or now use this strategy.Fabolous, 50, Ja Rule, Plies, T.I., Wayne, Game, etc. It has become unacceptable to talk about those topics without it getting on the radio. Every time I hear T.I. fourth album King released in 2006, I can't help but to think it was inspired by Life after Death specifically. It was his first 3 albums combined on steroids. It was street, lyrical and aggressive, and had the radio singles. The singles he released never had to have anyone question his credibility. "What You Know" and "Top Back" precisely was just the dope boy making it on the radio. The same thing with Big back in the 90's. That is why we should also see The Notorious B.I.G. as a pioneer in paving the way for this certain sound in rap. Not just him being a master lyricist. It's cool because we can actually give Diddy some credit for actually doing something with Biggie. Sampling the whole record doesn't count. BUT, we can actually give credit to Puff and Big because they were the masterminds behind this tactic. Ready to Die and Life after Death. More legendary than the average rap fan will ever know.
Staff Writer; Brad Washington