kYmberly Keeton; Why Brothers Need to Embrace College in the 21st Century…
(ThyBlackMan.com) There are many African-American males who are heading to prison versus college in the 21st century. In order for things to change with black men today, they need to take ownership of their destiny. What better way to achieve success, than by going to college to get your Human Resource Management degree and excelling! A few points have been allotted below to help lead them in the right direction.
Challenge
More African-American men in the 21st century need to attend college, because statics show they are the least likely to graduate versus white, Asian,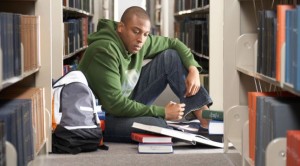 and Hispanic males. We have passed the era where you have to wonder if you can get an education—our grandparents, civil rights leaders, and concerned citizens, made sure we had a seat at the table. Now you need to figure out which chair you want to sit in—in class.
Intelligentsia
Attending college will show your homeboys that you can be intelligent and still have an alter-ego. It helps that your swagger will be on a whole new level, even if they don't want to follow along. Look up J. Cole's climb to the top in the hip-hop game. He went to college, and then dropped a CD. David Banner, another rapper, got his B.A., and then obtained a Master's Degree. Don't get it twisted, you can do this without going to college, but with your college degree(s) you will do it.
Motivation
The first black president of the United States, Barack Obama, was the President of the Harvard Law Review. He wrote two books before he turned fifty years young. In, "Dreams from My Father," President Obama, candidly talks about his life as a bi-racial child, and ultimately choosing to embrace being a black educated man in America. It is a story worth reading, and should be a part of your library.
Humanitarianism
Instead of hanging out, volunteer on your campus, or get involved in the community. Many black organizations are looking for African-American males to be involved in mentoring programs including the 100 Black Men, Inc., the National Society of Black Engineers, The Boys & Girls Club of America, AmeriCorps, The Black National Black Farmers Association, the Association of Black Anthropologists, the National Association of Black Journalists and black fraternities.
Suave
Remember, "Education is that whole system of human training within and without the school house walls, which molds and develops men." ~W. E. B. Du Bois
–A mind is a terrible thing to waste; we need more college-educated African-American males to rise to the occasion. It will do our families, communities, and personal livelihoods some good. There is no need to be a statistic!
Staff Writer; kYmberly Keeton
To learn more about this talented writer feel free to visit; Kreative Young Millionaire, Inc….
Need a website or blog? Head over to; Kym K Balance Network.