Brad Washington; Wale Joins Rick Ross Maybach music family…
(ThyBlackMan.com) The new decade has been nothing but good for the rapper Wale Folarin. He released the mix tape "More about Nothing" last August that was a sequel to his 2008 tape "The mix tape about nothing" started building a buzz that was bigger than his "Nike Boots" and "Pretty Girls" days, and has since left record label Interscope, confirming his signing with Rick Ross record company Maybach Music in February of this year.
 
The signing perhaps has been one of the most controversial signings in recent memory, being that Wale is now in a room full of those who portray themselves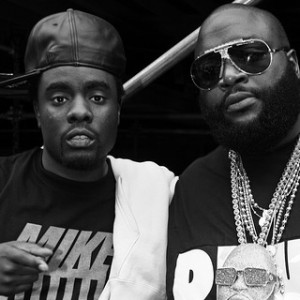 as/former drug dealers. But Wale begs us to listen. He wants us to know that nothing changed but the ink drying on another contract. He wants us to know that 600 Benz was about aspiring to get a 600 Benz, not that he made it and sold out.
Trafficking coke and street tales won't be apart of his collections despite his label mates. But as with his latest mix tape "Eleven One Eleven Theory" nothing has disappeared in his content and Wales popularity is more advanced than ever. The mix tape crashed the downloading site Hulkshare with the demand of the tape similar to Watch The Throne. He tackled such issues as the double standards of college football treatment of their athletes and being the underdog in this rap game.  Not to mention catering to his usual female audience while at the same time proving his skills on the mic.
His album Ambition is coming November 1st 2011, hence at the mix tape title. With that being said, Wale will be the make or break artist for Maybach Music Group on whether MMG is something to be reckoned with, and did Wale really make the right move.
Staff Writer; Brad Washington