My Manifesto Against Black Pimping and Hustling…
(ThyBlackMan.com) I tuned in Late to the Bev Smith Program on the Internet radio Friday, November 12, 2010, after trying to listen to a Reparations Program on Harambee Radio. Yes, Dr. Claud Anderson did come back on, but he started talking about what happen when he was in charge of Education in the State of Florida back in the 1970s.  I love Dr. Anderson, but he sounded like a broken record that's stuck to those of us who have heard him give the same spill many times. Several years ago, I purchased and read his books and videos on PowerNomics, which explains a brilliant economic empowerment plan for Black African Americans, but it concludes with no strategy to implement the principals of PowerNomics.  I wrote a proposal called The Quiet Resolution (TQR) after reading PowerNomics and Black Labor White Wealth, which is a strategy for implementing the principles of PowerNomics. 
Black African American People are hurting and want real implementable solutions.  Not Motivational Rap and Clap from the Usual Suspects, a Pep Talk or the same old blame the White Man Rhetoric!  You don't have to motivate someone who is already hungry and hurting.  They need action  that lead to solutions.  The Rap and Clap Session gets sponsorship, commercial advertising and actors to amaze the audience with their eloquent speeches and one liners.  I admit that Brother Dick Gregory was funny and we all need to laugh sometimes.  But it was a production that produced Hot Air! The only people that I suspect got paid were the host, speakers, facility owners, airlines, hotels, cab drives and restaurants owners.  I heard no attempt to collect money to implement anything.  Just the audience who always never have enough time to be heard and presenters promoting their individual band-aid solution for a specific problem. Black African American People have had  Trauma to our brains, hearts, lungs, nervous system, ears and eyes and are in a perpetual state of walking comatose.  It's these types of reoccurring Pimp and Hustle Events that happen every year or two years that help keep us in that conditions. I have no doubt that some of the organizers mean well, but others know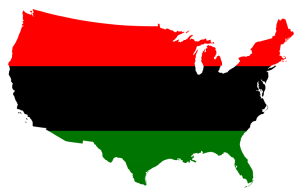 better. For example, when a churches run low in funds, they have a 7 day revival.  Yet now Black Leaders has ever called for a national Economic Empowerment Rally like on Black Friday, where we donate online or at a public location 10% of what we would spend on that day to support a Black Empowerment Strategy. This is not a call for another Million Man, Woman or Youth March anywhere.  That hustles has run its course long ago.  Black Leaders are not trying to wake up Black People, because a true awake and conscious Black People would recognizes their Pimp and a Hustle Game or see them as a Wolf in an expensive Sheep's Suit.
We need to demand new solutions or new leadership! We must stop letting either political party select our leadership.  They only select those who are safe to them, won't do anything for us and help keep us incarcerated and in poverty, but never empowered.  Why keep electing or allowing others to select them. It is difficult for us to demand new leadership when Pretender Leaders keep releasing our pressure by providing us with Rap & Clap Sessions like these and a weekly shot of Novocaine-Jesus, Ra and Allah on Sunday Mornings and sometime once a week.   
I humbly suggest that we no longer participate in our own subjugation, humiliation, oppression and destruction.  Don't attend another Rap and Clap Session or weekly Novocaine Injection! Any meeting that you attend should have a serious goal, objectives and enough time to allow all to participate by offering ideas, innovations and suggestion.    The organizers must request and attendees must agree to bring between $50 and $100 for seed or startup money to implement whatever plan is agree to by the majority that day.  It should not require follow-up meetings. A minimum of 4 to 8 hours per meeting. (This is a suggested model to use: The same Day "Meet-Plan-Implement" on Sundays, if you want to skip your weekly Novocaine injection.)  Any plan must have an economic component where a product or service is provided to your community to capture and turn over money in your community. Consider the products and services that are provided to your community: Food -Clothing -Medicine -Mechanics -Senior Care -Utilities -Transportation -Health Care -Insurance -Entertainment -Communication:  Have a political strategy to remove your leadership who don't have the ability or willing to solve your community problems.  Ignore those who continue to promote or support poor leadership.  Judge them not by what they say, but by what they do or are willing to do immediately to solve a community problem.  Accept No Excuses For Their Leadership Not Solving Community Problems.  We all have paid or are paying taxes and should demand solutions to community problems or not just simply complain.  We are never too young, or too old to contribute something to the uplift and empowerment of the city where we and our children  and family, friends and neighbors live, learn, work, procreate and play.
Ain't no Messiah, White or Black coming to save Black African Americans.  We must collectively pool or money, collaborate, innovate to create products and services for the marketplace, which the profits MUST be used for the uplift and empowerment of the Black African Americans.
Written By Charles E. Campbell
http://www.ahecgreen.com  – Renewable Energy Company