The LeBron to Miami Free Agency Decision…
(ThyBlackMan.com) Curt Flood and Oscar Robertson Must Be Proud…
Amid much fanfare, pomp and circumstance, free agent superstar, LeBron James, made his decision. It was a little too much fanfare for some, but you can do that when you're the game's best player.
And for his age, he is the NBA's best player. He wasn't on the NBA's best team, nor is he the NBA's best winner in the clutch (I'll concede that title to Kobe), but at 25 years old, LeBron James is the future of the NBA…for a long time.
Where LeBron was going to land was news. It just wasn't two weeks worth of news. It wasn't a whole 24 hour news cycle worth of news. His announcement probably didn't merit an hour long show. But none of it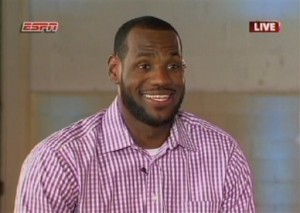 wouldn't have happened if the interest wasn't high and the demand to know wasn't there. You can't sell what people don't buy. That includes services for LeBron James.
Because of the sacrifices legends of the past made, LeBron James, Chris Bosh, Dywane Wade couldn't have decided to come together while selling their services to the team of their choice. For James and Bosh, they didn't even sell their services to the highest bidder. Both could have earned as much as $30 million more dollars by staying with their original teams (the ones they were leaving). It could have been about greed, but their decision was made about getting with the team with the best chance to win (and, of course, could pay all three). That team, the Miami Heat, negotiated with the players—not the owners of their previous teams. There were no "demands." Just "glad-hands" from wining, dining, private jet excursions and literal pleadings for elite players of the league to come their way. This was bigger than basketball (as we'll discuss in a minute). Curt Flood and Oscar Robertson must be proud.
Free agency in professional basketball, now 34 years old, followed the lead of professional baseball in banishing "reserve clauses," also called "slave clauses." Professional sports team owners used to own players contracts for life. They could trade a player or end their careers by forcing them to retire while holding their contracts in abeyance. The player couldn't play for them, and couldn't play for anybody else. In 1969, St. Louis Cardinals star centerfielder, Curt Flood, refused to be traded and demanded to be released from baseball's reserve clause, saying in a letter (dated December 24th [Christmas eve]) that "I do not feel that I am a piece of property to be bought and sold irrespective of my wishes." Baseball commissioner, Bowie Kahn, declined the request and  Curt Flood sued him. Flood was criticized (and eventually blackballed) for being a spoiled athlete making $90,000 a year (then in the top 5% of professional athletes pay—in all sports) trying to make trouble for the owners. Flood said on national television that "a well-paid slave is nonetheless a slave." His lawsuit, Flood v. Kuhn, reached the U.S. Supreme Court in 1972 and though lost in court, was the case law that allowed pitchers Catfish Hunter, Dave McNally and Andy Messersmith to challenge and win free agency status within three years of Flood's decision. All-time great, Oscar Robertson, who was President of the NBA Players Association, filed a class action suit on behalf of NBA players in 1970 (the same year Flood filed his suit), and watching what was going on in major league baseball, the NBA settled the lawsuit in 1976 granting players free agency.
Fast forward to the James decision and the most volatile reaction by Cleveland Cavaliers owner, Dan Gilbert, after LeBron choose Miami. First of all, Gilbert still had the smell of LeBron doo-doo on his lips from kissing James butt so much the whole week before. Then once "the player" rebuffed "the owner," Gilbert spoke as if James owed him something. Gilbert acted like a jilted lover. One who begs his girl to stay, then yells "Stank Ho! I didn't want yo ugly *ss, anyway," at the door that's been slammed in his face. I bet he didn't mention to LeBron how he disappeared in the playoffs during the contract negotiations when he offered him the maximum compensation ($30 million more than any other team could offer). People want to talk about selfish players, but the owners not only make money from the gate, the league (merchandising and television rights) and advertising (signage rights), they have residual investments around the venues that the players help build. This was more than about basketball for Gilbert. He is projected to lose more than $200 million with James departure. That's loss in attendance revenue, but also losses projected in the investments Gilbert had in the venue and in the surrounding area. It is the classic bankrupt scenario the slave owners faced when they woke up one morning and their slaves had escaped. In fact, civil rights legend, Jesse Jackson, Sr., accused Gilbert of having a "slave master" mentality in response to Gilbert "guaranteeing" the fans of Cleveland will win a championship before James. That was code for, "Don't panic. Downtown Cleveland will not go bankrupt." Cause we know damn well Cleveland ain't winnin' no championships anytime soon. Then Gilbert jabbed Rev. Jackson for callin' it like he saw it, tweeting that he would "win an NAACP Life Achievement Award before Jackson would." Damn…the whole league knows all it takes is money to get one of those. Gilbert must've had a conversation with fellow NBA owner, the Clippers' Donald Sterling, on how to get out of trouble with black people-after putting your foot in your mouth. Gilbert realized he was really on James' plantation.
LeBron put it to him. The players in this free agency cycle leveraged the owners to the hilt, as well they should've. They are talent that makes the league profit. And they're not slaves. Curt Flood is smiling from above. One day, the owners are going to get over it and put him in the baseball Hall of Fame. Oscar "Big O" Robertson, thump your chest (like the young players do). LeBron, Dywane, Chris…they owe you this one.
Written By Anthony Asadullah Samad